Best Ladder Stands For Bowhunting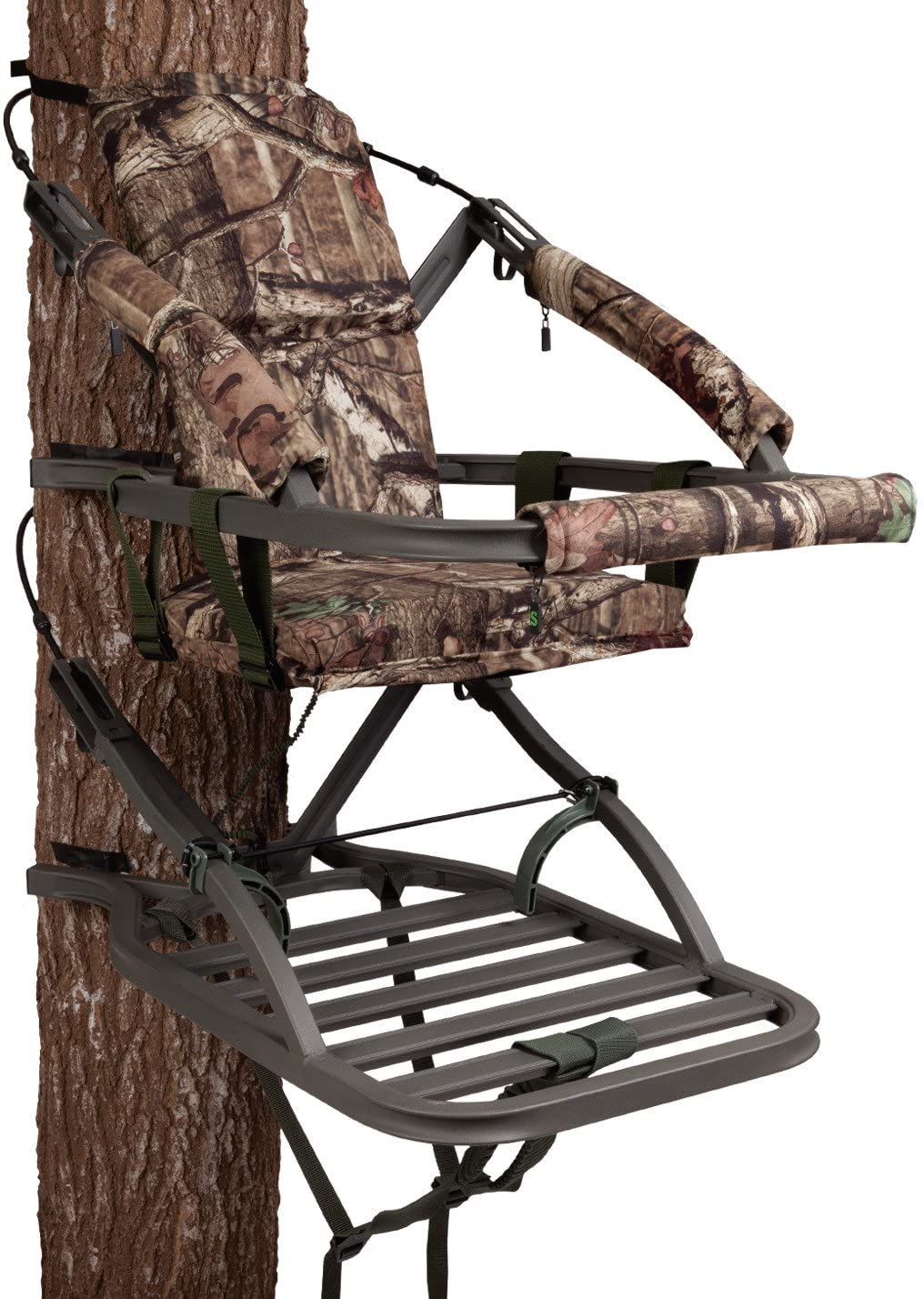 Summit Tree Stand 81120 Viper SD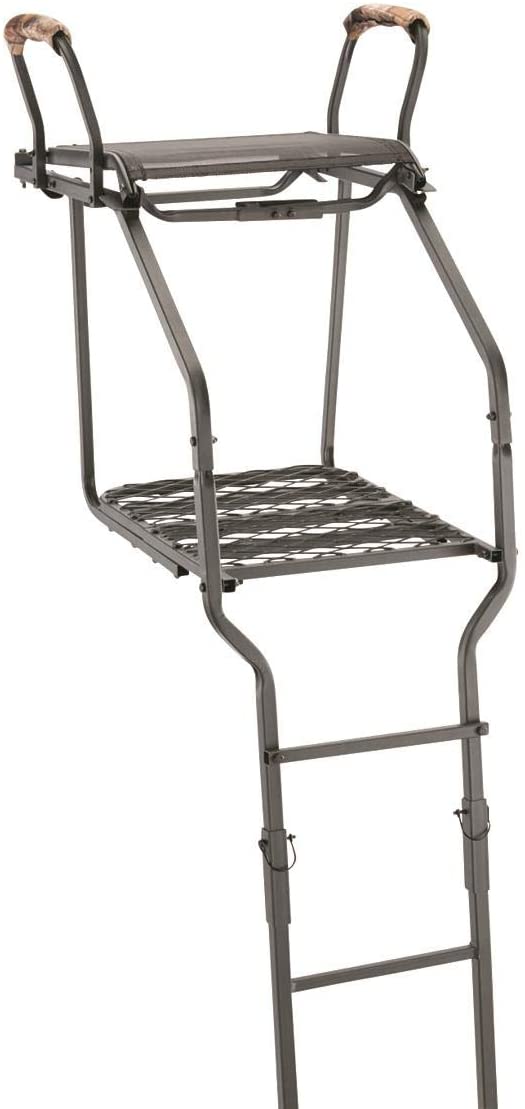 Guide gear 18' jumbo tree stand:

Big Dog Hunting Stadium Series
Summit Tree Stand 81120 Viper SD (Editor's Choice):
81120 Viper SD was introduced by Summit as a perfect product for bow and rifle hunters. Maximum comfort is guaranteed with this ladder stand. It is a well-designed, premier product for a great price. It is equipped with 'flexible to use' accessories. The aluminium makes it sturdy and light with a weight of 20 pounds only. You can get the luxury of a ladder stand weighing 20 pounds and able to carry up to 300 hundred pounds. The most important feature is Dead- Metal Sound technology which lowers the noise. This feature causes a quiet and concealed setting of the stand into the trees. Thus, it is great for hunters ready with crossbows in their hands and target in the front of their eyes. The stand is equipped with Comfort Tech seats and adjustable shooting rails depending on the hunting requirements. The Summit 81120 Viper SD is designed in a way to adjust, again, any hunting requirements. The climb stir-up and padded, suspended, foam seat keep your worries away about safety. It has a full perimeter scale that allows you for stand-up or a sit-down position.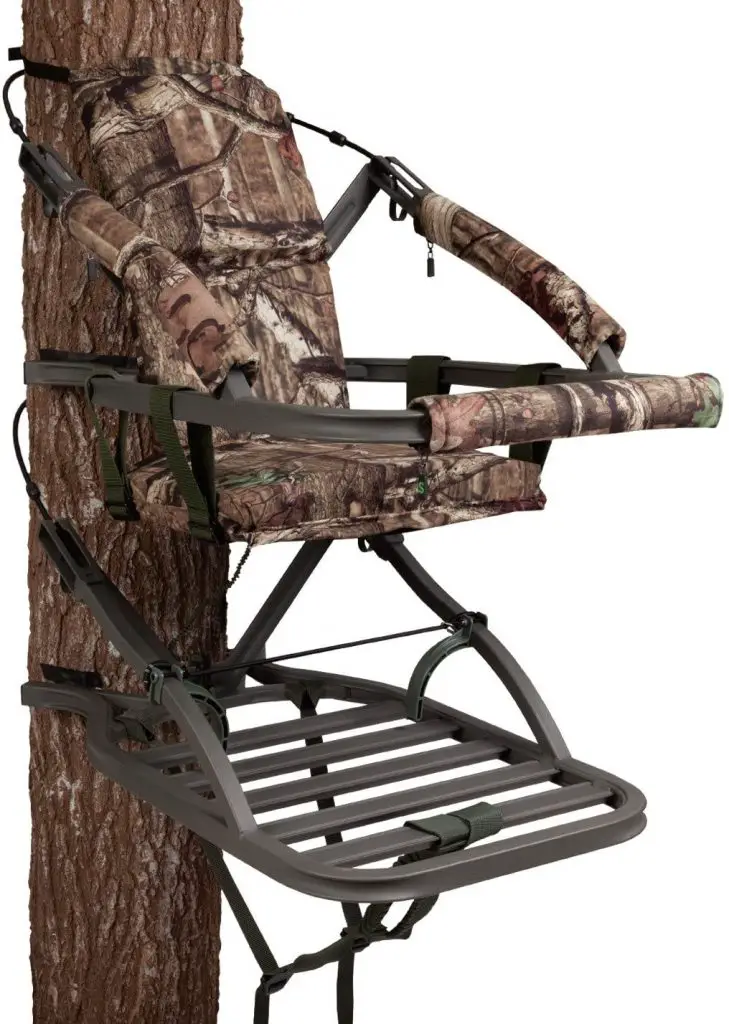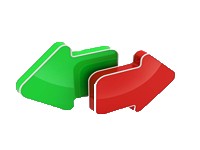 Guide gear 18' jumbo tree stand:
The Guide Gear 18' Jumbo Tree Stand is a perfect "spend less, get more" item in your hunting gear. It is different from other counterparts due to its sturdy and comfortable construction. Equipped with all of the safety accessories, 18' Jumbo is one of the most popular ladder stands among the hunters. It is a lightweight tree stand having 68.5 lbs weight. You cannot doubt its durability, since it is made from sturdy material. All the parts are welded effectively, making it dependable for a load of 500 pounds. Based on its steel construction, you are able to use it for several years. It withstands the test of time. The tree stand comes with a padded seat and back stand. This feature is crucial for long hours of bowhunting.
The hunting is also aided with a padded rail which saves you from scratches.
Talking about the height, the Guide Gear 18' Jumbo Tree Stand has a perfect height of 18 feet. Neither too high nor too low, it is best for an average user. You don't have to test your patience in those tiny tree stands anymore. The platform of the tree stand has dimensions of 26.25" x 13.25" with a flip-up design. It is oversized enough to stretch and relax for a moment. A big plus point is the full-body safety harness which includes two stabilizer straps, one ratchet strap and an adjustable support bar. It comes with two seat pad silencers and camouflage design. This is helpful to keep the movement quiet and invisible.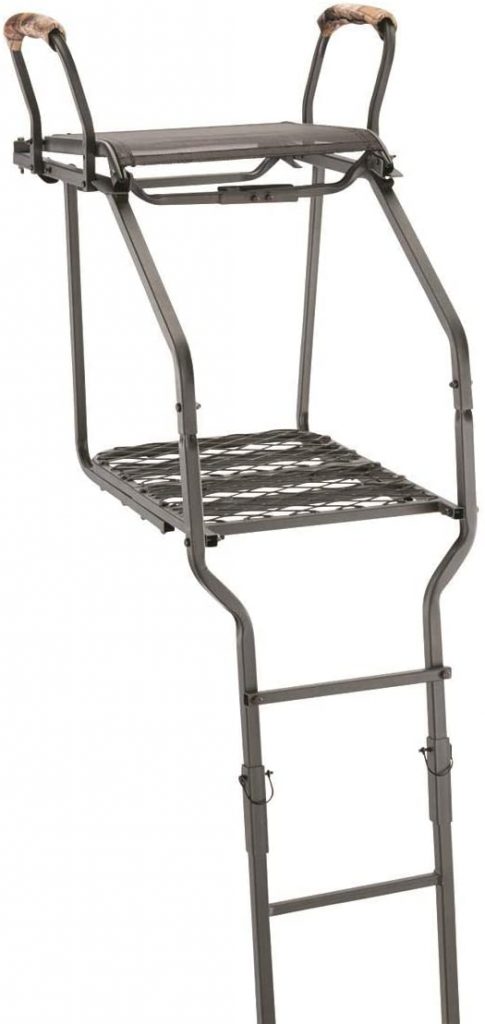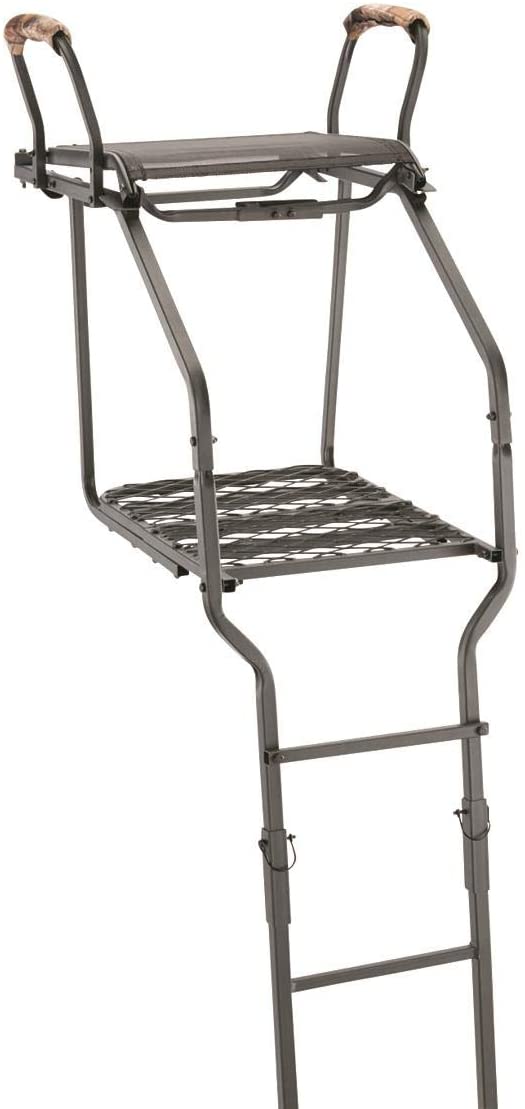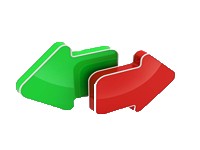 Big Dog Hunting Stadium Series XL
Big Dog Hunting Stadium Series XL was introduced as a perfect product for bow/crossbow and rifle hunters. Maximum comfort is guaranteed with this ladder stand. giving a soft cushion feel by providing you a padded arm back-rest, padded armrests, and padded shooting rail. It is a well-designed and the construction makes the stand look classy. This amazing stand is made of durable steel, it is capable of being strong and sturdy. . It is great sturdy stand and is capable of holding 500 pounds!
The unique curved foot platform which measures 56"w 13″d offers great comfort and support. Another addition to the outstanding dual-rail ladder. This makes climbing easier as you can choose to climb from either side. It also offers full-coverage letting you cover 360 degrees during the deer hunting session. The sections of the ladder are pinned meaning you can easily carry them anywhere you want. This makes the transportation and storage of the stand quite easier. A premier product for a great price.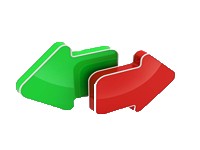 How high should a tree stand be for bow hunting?
There is no exact science in finding the perfect height for a tree stand. It all depends on the target and the location. The general rule that I found from my personal experience is that with abundant cover, you stay concealed. In this way, you don't have to stand much higher. The height that I, normally, keep is 12 to 17 feet because I am not too fond of steep angle shots.
Do you aim high or low when shooting from a tree stand?
Quick decisions are the mind-bending moments for bowhunters in a big game. This is a classic question. But, the linear distance from the target is much important. The best way is to keep in mind the height of the stand and the distance. This way, you will be able to calculate the compensation angle. Keep in mind that at height, you might want to take a steeply angled shot.
Can you shoot deer in the head?