Last Updated on May 13, 2023 by
When searching for the best laser rangefinder, you find different options available in the market. A golf rangefinder is different from a hunting rangefinder. In this article, we will look into the best hunting (yardage) rangefinders for bow hunting, rifle hunting and precision shooting.
Accuracy and aiming distance are two key factors any hunter should know before they take a shot. Though the hunting devices like camera and monoculars have an in-built rangefinder, having the external ranger won't be a poorly-made decision.
Most of the rangefinders used for golfing have the features that hunters need. You should know the complete skills of rangefinders before you chose and use it for your game. So below, we have listed the best hunting rangefinders that can also be used for other applications like golfing and provided the detailed buying guide to choose best rangefinders for hunting or shooting.
Best Overall Hunting Rangefinder
(HunterGuide #1 Choice)
[5/5]
High Eye-Relief (18mm)
Great Range Distance
6x Magnification
Compact & Handy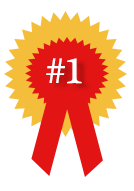 Why Use a Hunting Rangefinder?
While hunting, it is nearly impossible to calculate the distance of your aim with just the naked eyes.
Using your eyes to calculate short distances might work but for long distances, accuracy is greatly sacrificed. A false calculation may lead to a missed shot. That's why hunters are recommended to use the best hunting rangefinder while hunting.
The hunting or yardage rangefinder can measure the distance between you and your target and shows that measurement in its display. There are three different types of rangefinders available.
» Optical Rangefinder
» Infrared Rangefinder
» Laser Rangefinder
The laser rangefinders are popular among the hunters. When you see through the lens and press the button which is commonly at the top, it emits a laser beam spanning miles away.
Once the beam hits your target, it will bounce back calculating the total time it took to travel back. The display will then show the distance based on the calculation above.
Hunters use bow and arrow and rifle as weapons to hunt their prey. Based on these weapons, rangefinders are divided into 3.
» Bow Hunting Rangefinders
» Rifle Hunting Rangefinders
» Dual-Purpose Rangefinders
Apart from hunting, the rangefinders are used in golf, ballistics, photography, surveying, by wildlife observers, and by people who love the great outdoors.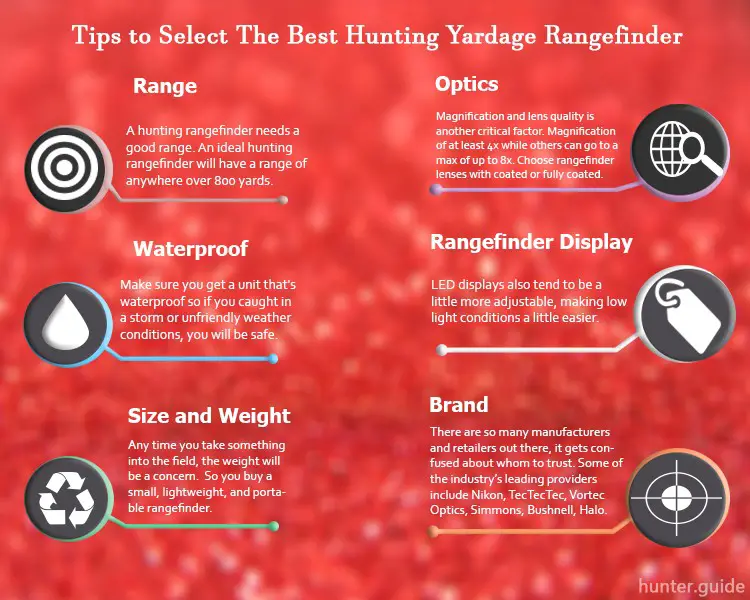 Best Hunting Rangefinders
Video – 10 Best Hunting Rangefinder Products

Best Hunting Rangefinders – 10 Products Reviewed
#1. Nikon 8397 ACULON AL11 Laser Rangefinder
Nikon ACULON ranks first on our list for affordability and the "Distant Target Priority" feature. With this effective hunting rangefinder, you can spot your target even when you are in complete darkness.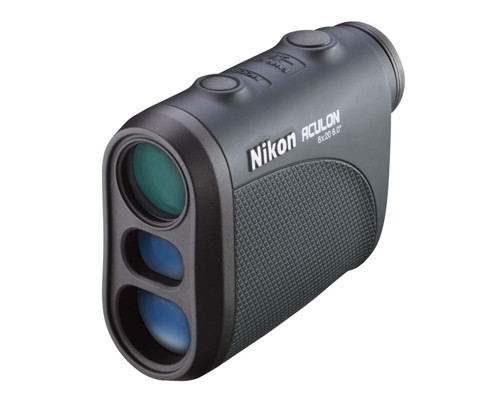 [5 / 5]
Pros
20s Continuous Scan
High Eye Relief
Multi-coated Optics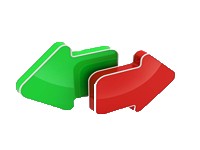 This Aculon hunting rangefinder has the compact and pocket-sized design with the length of 3.6 inches, height of 2.9 inches and width of 1.5 inches. It will fit right in your pocket.
Nikon 8397 has 18mm eye relief which is more than the average 15mm. With a spotting range distance of 6 to 550 yards, this hunting rangefinder will make a target that's three blocks away seem like it's right in front of you.
The device manufacturer reduced the weight to 4.4 ounces making it easier to carry around. For the hunter with larger hands, this pocket-sized hunting rangefinder can be a little challenging to hold. According to most buyers, the size and weight of the ACULON are quite comfortable.
This Nikon 8397 rangefinder is great for those Bow and gun hunters who won't need of long-range shooting. The advanced priority feature in this device provides the standard shots for woods.
Most of the rangefinder manufacturers are receiving complaints about the attached tripod of the device. Nikon has focused on this complaint and developed the 8397 hunting rangefinder with ease of carrying design thereby eliminating the need for tripods.
It has a 6x magnification which is fairly high compared to the other rangefinders within the price range. The 20mm objective lens has multi-coating to prevent the low view quality due to light loss while transmitting.
Having a non-illuminated display makes this bow hunting rangefinder hard for users to use at night. Similar to other popular hunting rangefinders, this device also has its data displayed in black.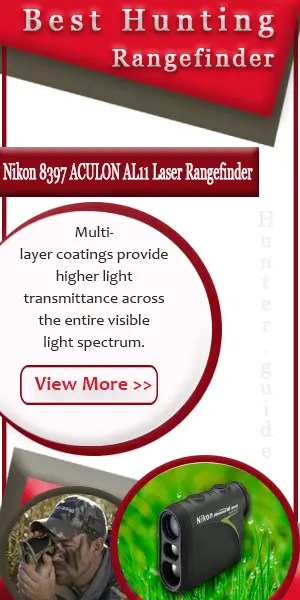 The Distant Target Priority may create the problem when you are heading to hunt on the open space. There is the possibility that rangefinder tries to focus the behind objects of the target.
#2. TecTecTec VPRO500 Golf Rangefinder
This TecTecTec VPRO500 is one of the most famous and recommended hunting rangefinder from TECTECTEC. There is no surprise that it cracked the second place in our list of the best hunting rangefinders as it has a huge customer base with 95% positive comments and reviews about the product. Let's look into the features and advantages of this hunting and golf rangefinder in a more in-depth manner shall we?

[4.9 / 5]
Pros
Provides good yardage
High field quality lenses
Pinsensor technology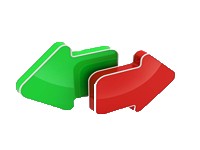 Cons
Not for all weather conditions
The range distance is the most important feature to look for in the hunting gears like rangefinders. This value decides the quality and worth of the product and with this, the TecTecTec VPRO500 surely won't make you feel disappointed.
TecTecTec hunting rangefinder has the ability to measure the distance up to 540 yards with continuous scan.
Though this range is not the highest among them all, it's certainly more than enough for hunters and golfers to do their job.
TecTecTec VPRO500 is the budget-friendly yet highly featured and most recommended hunting rangefinder for golf. This Laser Range Finder with Pinsensor offers speed measurement with the accuracy up to 1 yard.
The Pinsensor technology in this rangefinder ensures the accuracy of this device. The device can provide accurate readings of up to +/- 1 meter and provides 5000 actions. It also provides faster readings.
This technology also reduces the obstacles by enhancing the capability of the rangefinder.
This hunting rangefinder has ultra-high quality, multilayered lenses. The ease of view, ranger functionalities, and other key features provides clear details and makes it versatile for every hunter.
With this finder, you can read the distance in both yards and meters which are attractive to most users.

Unluckily, this hunting and golf rangefinder does not have any specific option to alert the user that the device has locked on to the pin such as a vibration or any sound.
#3. Vortex Optics Ranger Laser Rangefinders
Vortex Optics 1500 is the best option for the hunters and wildlife observers who have no problem with budget and whose concern is only about quality. Vortex, the manufacturer of this device has produced much tactical optics for hunters, shooters, and outdoor enthusiasts.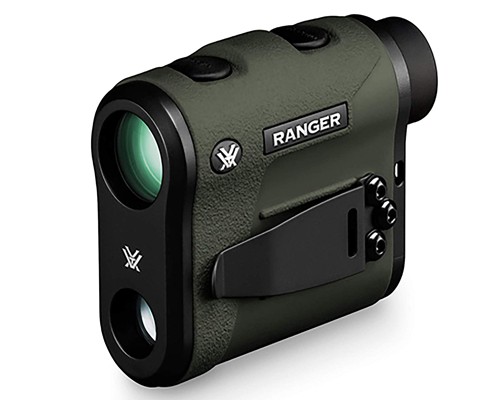 [4.8 / 5]
Pros
20mm Objective lens
17mm Eye relief
6 degrees Angular FOV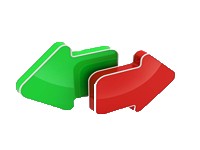 As the name suggests, it has the range distance from 9 to 1500 yards and it has an eye relief of 17mm. The 1500-yard range distance is effective for a ranger. Vortex ranger has the ability to reach the 1500-yard distance with high accuracy.
Vortex has handles the reflective range with an effective range of a deer. This hunting rangefinder has the ability to find the deer with the average range distance of 750 yards.
The design of this Vortex 1500 hunting rangefinder is specially designed for hunters and long-range shooters. The high degree of accuracy makes it apt for long-range target shooters.
Most of the hunters limit their deer hunting shots range up to 750 yards only. In fact, most of the hunters are saying that they won't attempt to take the shot if it's on that distance. So, for the deer hunting the 750-yard range is capable.
This best hunting rangefinder has the primary Horizontal Component Distance otherwise known as HCD mode to offer the angle with a compensated distance of the target. Using the ranger with HCD, you can also extend your hunting on uneven grounds.
This hunting rangefinder has the 6x magnification optics. This 1500 hunting rangefinder is made of waterproof design with O rings seal and makes it dirt resistant. It has a rugged design to withstand rough and tough hunting. The rubberized armor coating is available on the device for drop resistance and it also offers grip.
Sadly, the 1500 yards range is on the reflective target. Usually, the reflective range is difficult and less profitable for the hunters who are hunting deer.
Previous
Next
#4. Bushnell 202308 Bone Collector Rangefinder
Bushnell is famous among the top names in the tactical industry for producing professional grade products. They are producing the rifle scopes and rangefinders for different types of users. In their stack, The Bushnell Bone Collector Edition 4x Laser Rangefinder is one of the best and ideal choices for archers.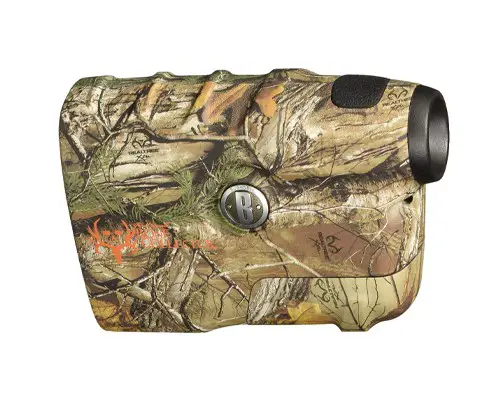 [4.75 / 5]
Pros
Realtree Xtra Camo design
Rainproof unit
Class 1 Laser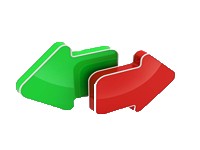 Though this ranger does not come with all the fancy and advanced features that other rangers have, this budgeted device still works great in providing accurate results.
The manufacturer made this device to be operated as a simple yet powerful rangefinder for archers with just a single touch button. You only need to point and range the distance.
Before you head into buying a rangefinder you should know about the ranging distance to which the device can offer accurately. The yardage data given by the manufacturer may vary based on the conditions. So know that the conditions you are hunting may affect the accuracy of the device.
Bushnell 202208 ranger is great for Archery. As we know archery needs attentiveness and focus to nail every shot you go through, this ranger helps them with these.
This Bushnell Bone Collector Edition has the yardage distance of up to 600 yards and that is pretty well for the archers. The accuracy of this ranger is about +/- 1 yard, Bushnell has been spot-on in their accuracy information.
Bushnell ranger has the 21mm objective lens with 4x magnification and yes the optics is multi-coated.
It has an impressive field of view at 320 feet and 20mm eye relief which is long-enough for the hunters and archers.
This Bushnell 202208 Laser Rangefinder has the 9-volt battery which may swap out in the field while you are hunting. So the battery of the device makes this device unfit for long-time gaming.
#5. TecTecTec ProWild Hunting Rangefinder
If you are searching for the well-equipped and priced model then this TECTECTEC ProWild is for you. This rangefinder can be used by golfers, hunters, and bow hunters. It has the lightweight design and easy-to-use keys.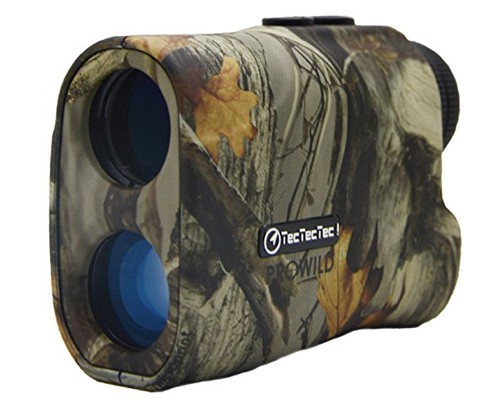 [4.85 / 5]
Pros
Multi-layered optics
Scan and speed meter
Dust and water resistant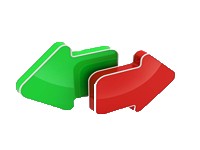 The weight of this unit is just 6 ounces which makes it easy to carry around the grounds all day. The lowest price of this hunting rangefinder makes it interesting to have even though it lacks some features like angle compensation.
This hunting rangefinder has the range distance from 10 yards to 540 yards. The accuracy of this model is +/- 1 yard. Though the measurement range is not as high as other rangers, it is pretty good for its price. But we should really appreciate the accuracy offered by this rangefinder. You can measure the distance in yards and meters using this model.
This rangefinder unit has the automatic shut off after 30 seconds of inactivity which saves the battery life and allows you to use the device for a longer time.
The aiming mark and lines in this TecTecTec ProWild are easily readable even in low light conditions. As most of the hunters prefer to hunt at night or dusk, this device will be great choice for the hunters, especially for coyote hunting.
It has a 6x magnification. The objective lens in the device has multi-layered optics for precise reading. As it has the adjustable eye relief, those who wear glasses also easily use this ranger.
The device has a clear and bright display but it is not illuminated so it may not be advisable to use at low light conditions. The reading is in black which is common among various ranger models.
The body of this hunting rangefinder is water and dust resistant (not waterproof!). So you can use it in the rain but you may find difficult to read the display.
TecTecTec ProWild has the low price so you can't expect features that other expensive models have. You can use this ranger at the distance longer than 50 yards as it may not be accurate if you go below 50 yards.
#6. Simmons 801600 Volt 600 Laser Rangefinder
Simmons is a popular manufacturer since 1983 for producing high-quality devices and high range optics. They have proven their quality in their rangefinder products also. Other than rangefinder, they have also been a leader on binoculars and rifle scopes.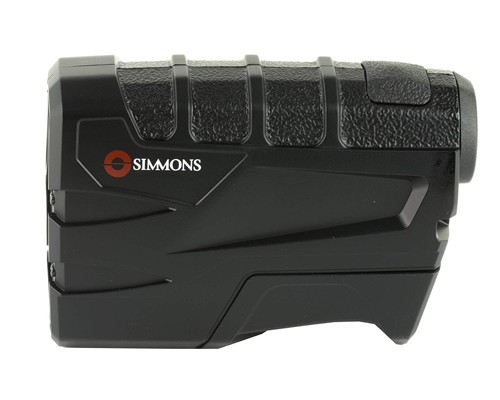 [4.5 / 5]
Pros
Fast and Easy measure
Wide field of view
Black LCD display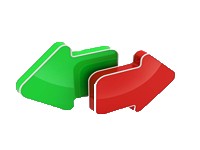 Simmons doesn't have many products for rangefinders, this Simmons 801600 Volt 600 is the most popular and recommended rangefinder type.
Simmons laser rangefinders are cheap yet effective, so you won't go wrong with this device during hunting or golfing.
This Simmons 801600 rangefinder is a basic model that can be used for entry-level actions like short range hunting. The range distance offered by this device is about 10-600 yards and the lens has 4x magnification.
Simmons 801600 rangefinder has angle compensated readings and it can also measure the slopes. The battery level indicator in this device shows full charge, 2/3 and 1/3 battery life which avoid the sudden shut-off.
You will get the accurate range details within a few seconds of pressing the single top button on the device. Unfortunately, you can't use this ranger on wide grounds because if the target is surrounded by bush and trees, it will detect the wrong target and provide false range values.
The features of this device make it perfect for bow hunting but you can also use this for golfing. It has the common black display that is clear to read the values at enough lighting conditions.
This Volt 600 rangefinder has the black LCD display and box-style reticule. You will receive the bright, high contrast, and crystal clear images.
Simmons 801600 lacks in few needed features like reticule options, distant target priority, scan mode, and adjustable eye-relief. Also, you can't use this device to range through bush and branches.
#7. Bushnell Scout DX 1000 ARC Laser Rangefinder
This Bushnell Scout DX 1000 ranger has two hunting modes called "Bow" and "Rifle". The ARC technology (Angle Range Compensation) is a unique feature of Bushnell which is available in its previous models also.

[4.5 / 5]
Pros
E.S.P. technology
Multiple distance modes
20-foot drop resistance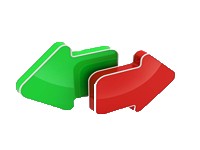 Cons
Uses CR2 battery (Hard to find)
This rangefinder for hunting has more or the same features of G-Force 1300 rangers such as VSI which is the most user-friendly option that allows the hunter to choose any of four different sight-in distances. The Rifle mode in this device shows the information in MIL and MOA apart from CM and Inches.
The magnification and objective lens of this updated DX scout 1000 is similar to G-Force models. This device also has 6x magnification and 21mm objective diameter lens. But its predecessor Scout 1000 had 24 mm lens and 5x magnification.
Bushnell 1000 has the Extreme Speed Precision technology (ESP) that provide the great accuracy of -/+ 5 yards with 21mm objective lenses.
The field of sight on the previous model is 376 feet at 1000 yards and this new one has 393 feet at 1000 yards. On the whole, this updated version has high magnification and also offers a high field of view.
This new version of Bushnell rangefinder has accuracy less than previously listed models at +/- 1/2 yards. It has automatic shut off after 30 seconds of no action to increase the operating time of the device. As like other units, it's also waterproof and dustproof to use in any weather conditions.
The long-distance ranging is the most common complaint about this Bushnell Scout DX 1000 Rangefinder. The targets away from 400 yards are hard to range in this device even if it is houses or building.
#8. Halo XRT6 Laser Rangefinder
Halo XRT6 Laser Rangefinder is one handy ranger to have in hunting and golfing. This hunting rangefinder is packed with all the basic ranging features and acceptable price range.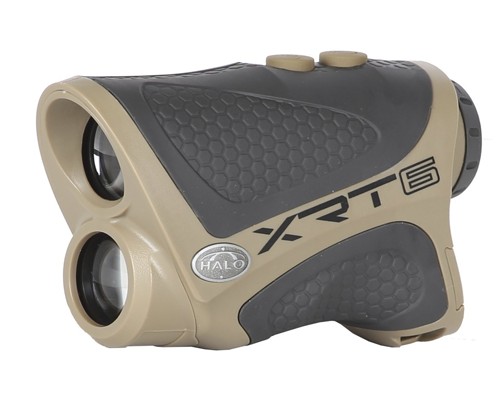 [4.5 / 5]
Pros
Water resistant casing
Comes with a lanyard
Crisp and high contrast image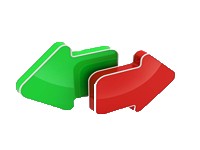 This is one of the best hunting rangefinders if you're on a budget. It has the ranging distance up to 600 yards which make it ideal for hunting particularly bow hunting.
It has the accuracy of +/- 1 yard so you will get high or nothing possibility to take a shot. It has 6x magnification, so you will never miss your target. The LCD display used in this device is new but still don't have the brightness control.
This hunting rangefinder has two modes such as Scan and target. Using the scan mode you can read the continuous ranging distance measurement when you do scanning beyond the area.
Halo XRT6 Laser Rangefinder has the fog resistant eye-piece so you don't need to worry about the conditions under what you are gaming. This hunting rangefinder also does not have the shutter lag.
The target mode will benefit you by providing an accurate distance between you and your target. It has the water-resistant case which will help you to use this device on rainy conditions.
As it has a sturdy construction and a drop-resistant design, you can use it on any terrain and hard ground. The eyepiece in this device is fog-resistant so you won't need to worry about the cloudy conditions at your gaming sites.
The reason behind the positive reviews about this Halo HRT6 ranger is its speedy process of measurement. Whatever the distance may be poses minimum to zero hassle when you use this hunting rangefinder.
Halo XRT6 ranger use the CR2 batteries that has long lifespan but hold less power and also these batteries are not available to everyone and everywhere.
#9. Bushnell Tour Z6 Golf Laser Rangefinder
Bushnell Tour Z6 Laser Rangefinder is the updated model of the standard Tour Z6 model. The recent Z6 rangefinder provided the PinSeeker feature and JOLT technology.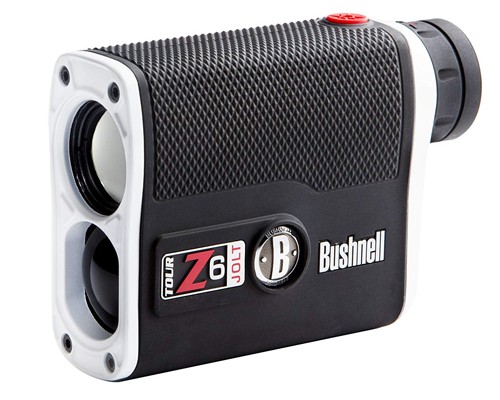 [4.4 / 5]
Pros
Red aiming circle
Low maintenance cost
Wide field of view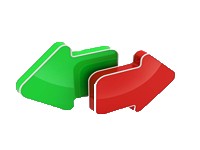 This technology can alert the user after the flag has been locked. It also has E.S.P. 2 otherwise known as Extreme Speed Precision Second Generation which improved the accuracy and made the reading process faster.
The Vivid display in this hunting rangefinder assures the clarity of the measurement and high contrast image. The range distance offered by the manufacturer is from 5 yards to 1,300 yards.
Here the flag distance is up to 450 yards and the ranging accuracy is 1/2 yards at 125 yards. And the entire range unit has a waterproof body and optics with 6x magnification.
Bushnell Tour Laser Rangefinder has Pin seeker and JOLT technology which ensures the target has been locked by generating clear signals to the user.
The textured black rubber on the body of the Tour Z6 rangefinder makes it easy to grip and prevents from slipping.
It has four types of brightness options. The PinSeeker technology with red aiming circles in this device is used to find the nearest targets neglecting the background objects which provide strong signals such as trees, bushes, and branches.
The laser in this ranger can be active continuously for 4 to 8 seconds and once after you release the button the detected distance will be shown for 8 seconds.
Bushnell Tour Z6 Golf Laser Rangefinder doesn't have automatic scanning feature so panning across the objects to measure the range distance of multiple objects at the same may not be possible.
#10. Bushnell 202442 The Truth ARC Rangefinder
This version of Bushnell with advanced features like ClearShot makes it ultimate for hunters. The special bow mode on the device enables it perfect for bow hunting in any type of conditions.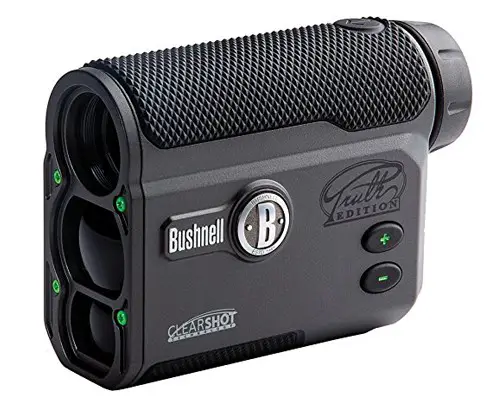 [4.3 / 5]
Pros
ClearShot technology
Pocket-sized design
HD quality image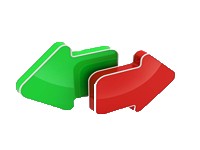 It has the range distance up to 850 yards but that is reflective. But the range offered by the device will differ based on the targets. This device offers the minimum range of 7 yards and 200 yards is the maximum range available for deer. This range can be extended to 600 yards if you want to see the distance of tree line from you.
You can get magnification up to 4x which is enough for bowhunters. The rainproof body is the added advantage of this device.
This device will do most of the actions automatically so it will be easy to use by anyone. With a single button, you can control the entire device.
Bushnell 202442 hunting rangefinder has the special mode called "Bow" which made this device ideal for bow hunters. As it does not need added knowledge to use it, even the beginners can use it beneficially.
You have to just point the target and read the distance and take a shot.
This device has the design which focuses more on reflective objects. So when you want to focus the dark objects, you just have to focus on nearby light color objects.
The ARC technology (Angle Range Compensation) in this device helps to get the perfect shot on your prey.
Apart from the features, its lowest price made customers happy and satisfied with their buy.
Bushnell 202442 rangefinder has the lens which is not illuminated so it will be hard to see the reading at the dark or low light conditions. Also, it has powered by CR2 batteries which are not available all the time.
How to Choose the Best Hunting Rangefinder
Here is the list of things any hunter or golfer should consider before choosing the best hunting rangefinder.
Ruggedness
As a hunter, you have to face different types of grounds and terrains so when you buy gears for your game, look for the rugged units. If you have a device which is not rainproof and drop-proof then you can't concentrate on your game. Choose the rangefinder unit which is durable and works for a quality amount of time.
Distance/Magnification
There is no fact that long distance is best as the needs of hunters will vary. But the longer range devices help you when you have to take a move towards your prey and you are far away from the target. 
Most rangers have distance measuring range of up to 500 yards. If the distance is far then it must have quality lens for clarity of view. This is a place where lens magnification plays a role.
If the magnification is high, it is hard to hold the ranger steady. Mostly, the good range rangefinders have magnification from 4 to 6x. A rangefinder with 4-5x magnification and 400-800 yards ranging distance will be the best buy for hunters.
Scan & Horizontal Modes
Scan and horizontal modes are essential in certain hunting situations.
These modes can be useful if you need to collect the surroundings data as quickly as possible. For example, if you are trying to bowhunt a turkey and waiting for it, then reading that place and finding the target lines can be done by these modes.
Reticle
Mostly having the simple reticle is better for efficient hunting. As most of the displays in the hunting rangefinders are LCD. These displays enable the user to see the reading and reticle. But these displays can be put down by light and it will confuse you very easily if you don't have experience with it.
So until you become a Pro in your game, having the simple crosshairs will be good.
LCD VS LED Displays
Most of us don't think about the types of displays but it is really important if you play your game seriously. The LCD display is best to use in the day time. Its black reticle, contrast and distance display works well. But for hunting at early morning or the low lighting evenings, an LCD display won't suit. 
So before you choose, think of what your usual hunting time is. However, some of the best rangers in the market have LCD displays only. Still, the LED display with adjustable brightness will be great for night vision.
Angle Compensation
Angle compensation is the feature which gives you accurate reading when you can't predict the distance. Though most of the rangefinders lack this feature, it is a must-have if you want to hunt your prey without injuring them. It will provide the horizontal distance between you and your target which will have an effect on your shot.
Infographics: Best Hunting Rangefinder

Final Words
Hunting is a great source of entertainment and adventure but for some people, it is serious stuff. The above guide is for everyone who loves to hunt at different destinations and discover new things in the outdoors.
Whether you are a pro hunter or adventurist, packing essential tools for the game is a must.
No one has the eyesight to see the targets that are hundreds of yards away. That's why you need the best hunting rangefinders that are going to last long. I hope you enjoyed reading the above blog about the top picks of hunting rangefinders for your money.
Happy Hunting!!!