Last Updated on May 13, 2023 by
Even though you might have an everyday watch that is reliable, why should you buy one of 2022's best hunting watches? In all, watches can do so much more than tell you the time. One of these products may actually take your hunt to the next level.
Let's suppose you are out on an elk hunt. Perhaps you are tracking a bull, and get lost as the sun sets behind the mountains. You can rest assured that your GPS watch will help you find your way back to the campground, no matter how lost you are.
You may not need GPS, but you might hunt in the same areas every time. You may be able to use a trusted outdoor watch that has an altimeter and barometer (ABC), which will track your elevation and gauge atmospheric pressure and point you in the correct direction.
You might not find any of this important, but you may just be looking for a watch that tells the time and last for months. We have the right watch for you, no matter what your situation.
Table of Contents:
Best Hunting Watches
Differences Between GPS, ABC & Regular Watches
What Makes a Great Hunting Watch?
Best Overall Hunting Watch: Garmin Fenix 7 Sapphire Solar
Best Non-Apple Screen: Garmin Epix Gen 2
Best for the Money: Garmin Instinct 2 + Solar
Best Battery Life: Coros Vertix 2
Pure 'Built for Hunting' Watch: SUUNTO Traverse Alpha
GPS WatchesGarmin fenix 6 Pro Solar
Garmin Tactix Delta Solar With Ballistics
Apple Watch Series 7
ABC Watches

Casio Pro Trek PRG-270
SUUNTO Core
Casio Pathfinder
Casio SGW-1000-1ACR

Regular, Rugged Watches

Timex Expedition Scout 40
Luminox Navy Seal
Casio GD-100-1BCR G-Shock

Final Word: Hunting Watches
More Hunting Gear & Resources
Differences Between GPS, ABC & Regular Watches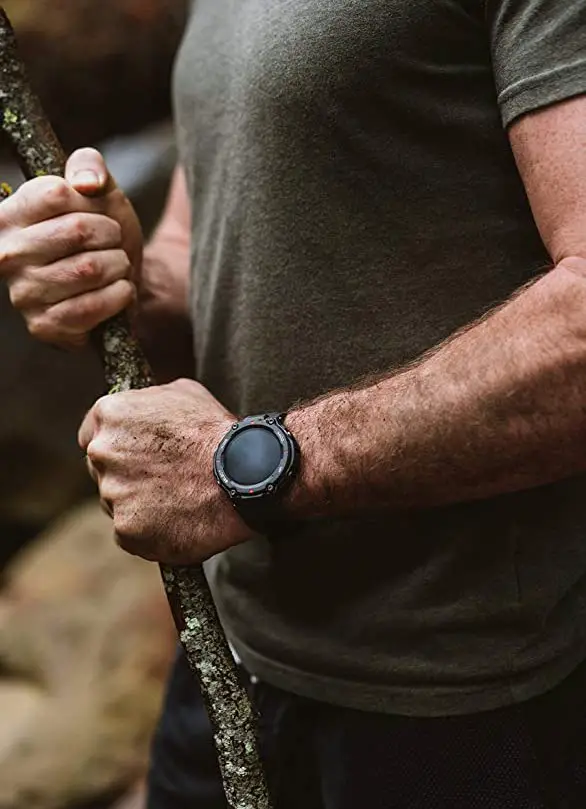 GPS Hunting Watches
GPS hunting watches are typically more expensive, but have more features than the rest.
They use GPS and GNSS (Global Navigation Satellite Systems) to let you know where you are, show you a trail or drop virtual breadcrumbs that will help you navigate in the wilderness. They can count steps and measure Sp02 levels (the amount of dissolved oxygen in your body), as well as display text messages and notifications.
They are as capable as ABC watches. We'll discuss the differences in the section below.
You will need a GPS-enabled watch if you are looking for an all-in-one outdoor watch.
ABC Watches
ABC watches come with an altimeter and barometer as well as a digital compass.
Measure elevation 
Monitor atmospheric pressure changes
Basic navigation
Although ABCs do not have GPS-like pinpoint navigation, they might be a good option for those who don't want to pay more for features that they won't use.
An ABC watch will last longer than a fully-featured GPS-equipped watch. An ABC watch might be the best choice if you require a long battery life and solid features.
Regular Watches
You might not need GPS or ABC capabilities and just want a watch that is reliable enough to withstand the elements of the outdoors. We have a few selections down below for you.
What Makes a Great Hunting Watch?
No matter what watch you choose there are certain characteristics each product must possess to earn stamp of approval. 
They must:
Be durable
Get shock/water resistance and full waterproofing
Have scratch-resistant surface (the more expensive models)
You and your equipment will be tested by the great outdoors. So, find the right hunting watch for you from the following list.
Best Overall Hunting Watch
This list is full of Garmins. The Fenix 7 takes the top spot in our 2022 Guide.