Last Updated on May 13, 2023 by
So, you're looking for the best crossbows on the market to add to your hunting arsenal? We've got you covered, with reviews of our top five finds of crossbows. Jump right in so that you can make an informed purchase.
Our Favorite (The Best) Crossbows Right Now
CenterPoint Sniper 370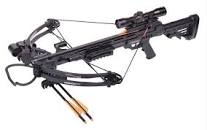 CenterPoint Sniper 370 is rated 4.6/5 on amazon. Its price is less than $300, but cheaper doesn't mean lower quality. In fact, this crossbow's output is higher than more expensive crossbows. It comes with the following features:
· 12.2 pounds
· 185 pounds of draw weight
· 370 fps speed (making it the fastest crossbow for its price)
· Anti-dryer fire system
· Minimal vibration and string noise
· Built-in adjustable stock (suits all heights and arm lengths).
· Good optics quality-offers 5 brightness settings
It is considered a good choice to be used for both hunting (small game and big game) and as self-defence. Also, a good starting crossbow for beginners.
Barnett Jackal Package

Barnett Jackal Package is rated 4.2/5 on amazon. Its price is around $250, making it an affordable choice. Its main features are:
• 7.7 pounds
• 150 pounds of draw weight
• 315 fps speed
• Accurate
• Easily assembled
• Fully synthetic cables (wear resistant)
• Especially designed for beginners
One of the main drawbacks of this crossbow is that it doesn't come with a silencing mechanism. Hence, it can be loud when fired. It also doesn't have the best balance but adding quads limbs can provide good stability.
Wicked Ridge Invader G3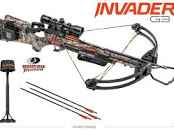 The Wicked Ridge Invader G3 is rated 4.5/5 stars on amazon. It is considered the top choice for a middle-range budget. It is also considered a beginners crossbow for hobbyists, new archers and crossbow hunters. Let's look at what it has to offer:
• 6.6 pounds
• 165 draw weight
• 330 fps speed
• Very safe to use
• Comfortable
• Powerful
• Smooth draw
• Stable
It comes with a scope, but unilluminated, which makes hunting an night impossible. It can be used for day hunting or home defence. It is also not silent, so implementing a dampening can solve this issue.
Tenpoint Titan SS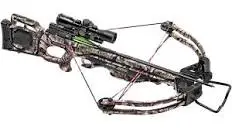 The Tenpoit Titan SS has almost perfect rating on amazon of 4.9/5 stars. It is a middle-range crossbow which can be bought at around $500 new. Its features include:
• 6.7 pounds
• 175 draw weight
• 340 fps speed
• Technologically advanced
• Good accuracy
• Easy to use
• Great comfort
• Great balanced trigger system
• Lifetime warranty (very durable and high quality)
• Best-seller
Just like the Wicked Ridge Invader G3, Tenpoint hasn't offered an illuminated scope on the Titan SS neither. It is also noisy and could make use of noise suppression tools. It is ideal for archery and small game, but not recommended for big game.
Arrow Precision Inferno Fury

Arrow Precision Inferno Fury is rated 4/5 on amazon. It is a recurve crossbow, very affordable and comes with great quality. It is a great choice especially for target practice and new archers who want to become masters. Features:
• 4.8 pounds (very light)
• 175 pounds draw weight
• 245 fps speed
• Cost effective
• Adjustable scope mount
• Highly compact
• Durable
• Ambidextrous features
• Quiet
• Anti-dry fire system for safety
This bow requires manual cocking, but due to the low draw weight it is not considered a disadvantage.
EXTRA: The wicked Ridge Lady Ranger

Crossbow are often considered hard for women to carry and use. TenPoint designed one especially for ladies. The wicked Ridge Lady Ranger has a rating of 4.8/5 stars on amazon. It can be purchased at around $550. Its features are:
• 5.9 pounds
• 150 pounds draw weight
• 300 fps speed
• ACU52 Self-retracting rope cocking system
• Easy finger placement
Its pink camouflage design makes it hard to not catch the attention of the women who practice the sport
Which Crossbow Is The Most Accurate?
Mission Sub 1 XR- comes with the tittle and mission of being the most accurate crossbow. It is a fine design inspired by the rifle stock and pistol grip. It weighs 7.9 pounds and has a speed of 410pfs. The length of pull is adjustable and it can be de-cocked with one button only. It is on the pricy side ($1700+), but definitely a masterpiece.
Ravin crossbows are another great choice, especially Ravin 15
How Far Can a Crossbow Shoot Accurately?
The main technological advancement of modern crossbows is being faster. The arrow can probably hit a target as far as 500 yards, especially if it comes with a riflescope. However, the further the distance, the less accurate the shot.
Beginners find distances less than 50 yards challenging, let alone 500 yards. Professional shooters can aim that distance easier.
When it comes to hunting, just because you can reach 500 yards, it doesn't mean you should shoot an animal. Mainly for for ethical reasons. Crossbows are short-range weapons. An arrow further than 50-60 yards doesn't have the power to effectively wound an animal. Especially big game animals! Even very skilled shooters would stick shooting up to 80 yards. Environment of hunting has to also be considered. If hunting in dense woods, only aim a shot at a distance of less than 30 yards.
Moreover, hunter's choice of arrow are usually the mechanical broadheads. Despite being used to improve distance, they are quite heavy. The weight makes them slower and travelling at shorter distances. Fixed broadheads or slender arrows can reach longer distances when combined with a high-speed crossbow.
For target practice however, a distance of 180 yards can be possibly reachable
Can The Best Crossbows Be Used For Self-defence?
Crossbows were first designed and used in the military in Ancient China. Nowadays, they are also used for self-defence and domestic security purposes, especially in South-East Asia and Africa.
Whether they make a good choice of self-defence weapon is up for debate.
A crossbow has an intimidating appearance and is relatively not noisy. It has a great penetrating power and it can injure the aggressor badly. However, if the aggressor is carrying a gun and you are carrying a crossbow, your chances of being able to defend yourself are slimmer.
Also, you must constantly and consistently practice the use of a crossbow. A crossbow has a low kinetic energy and a not so fast cocking system. Meaning, if the first shot is missed or there is more than one person in the room, it will take some time for the second shot to be loaded. It is also a big weapon, so in small spaces, the opportunities to manoeuvre are limited.
Unlike firearms, crossbows are usually not regulated by the government. When you don't have access to a firearm, a crossbow can be a good alternative to your phycological peace. Of course, we wish you would never have to use it for that purpose.