Last Updated on May 13, 2023 by
Hunting is an outdoor activity that gives both excitement and satisfaction. But you have to be well prepared to face a lot of obstacles on the way to hanging that hunting trophy on your wall.
The first and foremost thing you have to consider is what you wear on your feet. Walking barefooted or on sandals may affect your hunt negatively at any time. Hunting boots would protect your feet and gives you maximum warmth and comfort throughout your adventure.
It gives a complete look on your feet and most hunts would require you to move on your feet. So, well-protected and comfortable feet could very well lead you to a successful hunt.
Best Overall Hunting Boot
(HunterGuide #1 Choice)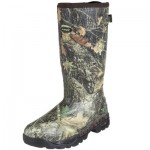 [5 / 5]
100 % Rubber and Fabric
Waterproof Materials
Reinforced Support Panel
MossyOak Break-Up camouflage pattern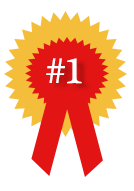 A good hunting boot is waterproof, long-lasting and can withstand any climatic conditions. So you can concentrate on your hunt, without worrying about the hot spots, foot cramps, and blisters.
While preparing for your trip, don't forget to wear those socks along with your boots. So that you can stay warm in the woods for long hours. Some substitute hiking boots with wellies. But still the market for hiking boots never faded. There are many varieties of hiking boots available in the market for all ages.
We have analyzed and tested over 70 models and jotted down the Best Mountain Hunting Boots based on its performance, durability, water resistance, customer reviews, and other features. Get ready for the ideal hunting boots for your adventure challenge. Scroll down to go through our Top 10 Best Hunting Boots.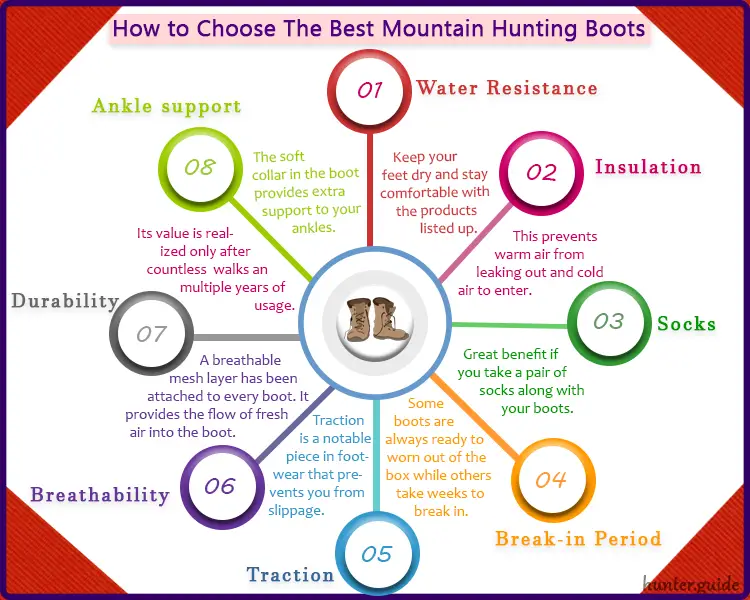 Best Mountain Hunting Boots
Best Mountain Hunting Boots – 10 Boots Reviewed
The award-winning product in my list of Best Hunting Boots is the Original Muck Boot. MuckBoots is the perfect choice for those who love for winter hunting. The Original MuckBoots offers an impressive footprint with waterproof comfort for the hunters who value their time in the wilderness.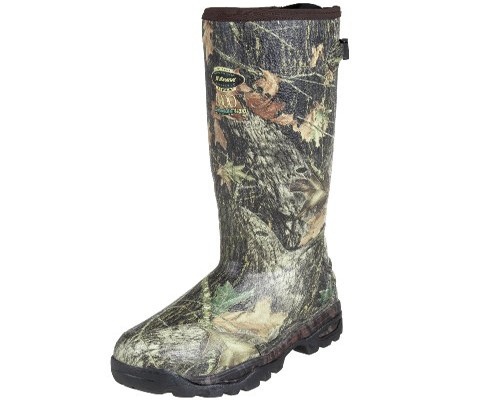 [5 / 5] ⭐⭐⭐⭐⭐
Pros
Abrasion resistant
100% natural rubber
4-way stretch nylon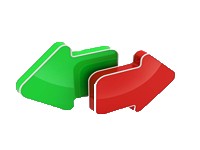 Materials
Muck boots are made with a mixture of rubber and fabric around the shoe and ankle. Both the materials are flexible and lightweight so you may not even feel that you are wearing it. It does not weigh you down. These are specifically engineered for extreme cold weather conditions.
Traction
The rubber sole of this boot is provided with deep traction grooves that prevent you from slipping. So you can walk around anywhere on the ice, slush, mud or snow without any worries. It keeps your feet dry and protected. The outsole of the boot is made with a self-cleaning feature. It is very simple for you to maintain this boot.
The shaft of Muckboot covers your lower leg and keeps you warm even at low freezing temperatures say -20°F. Get ready for a long winter trekking with Original Muck Boots.
Perfect fit
The shaft is made to keep your feet warm in icy temperatures. It measures around 15 inches to cover your lower leg for safety. The shaft offers a complete fit to your leg and keeps you warm throughout your hunting.
Unique design
Muck boots are featured with a breathable lining that blends a unique flex-foam layer so that your feet can stay warm and dry even in the most sensitive weather conditions.
These boots are made to be abrasion resistant so you need not want to fear about cuts or scratches. Muck boots are always ready to worn out of the box.

The shaft of this knee high Muck boot is slightly tight and pains the lower leg when you wear it for long hours of hunting. 
The runner up product in my list is the Kamik Men's Hunter Boot. It is the best icebreaker elk hunting boots and has longer life span. Kamik approaches with lots of options and marks it place in the top 10 list.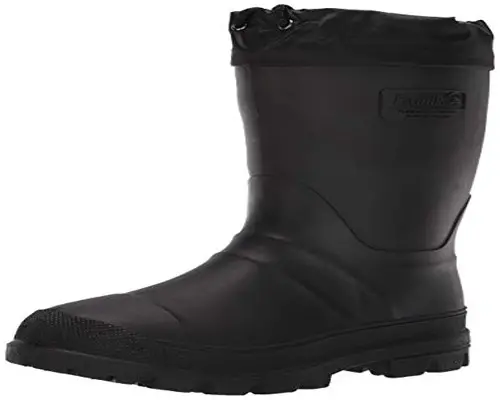 [4.9 / 5]⭐⭐⭐⭐
Pros
Adjustable collar
Excellent traction
Moisture wicking liner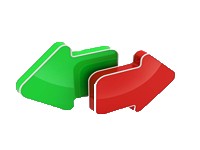 Great Quality
The Kamik is very well built with premium quality synthetic materials that offers durability. It has the ability to withstand snow, ice, freezing rain, and other temperatures so that you can enjoy your favorite backcountry adventures wearing it without any discomfort.
Waterproof
 The Thermal Guard liner of the Kamik provides an incredibly warm interior. This liner is removable and so you can enjoy wearing it to the outdoors in any seasons. This waterproof knee-high boot repels water from entering in. So you can feel warm and dry feet all the time.
Kamik Hunting boot is an excellent icebreaker that provides deep traction to prevent you from slipping. It offers comfortable grip even in rugged terrains. 
Shaft
The shaft of the boot measures about 14.25 inches from the bottom of the sole. It is very comfortable for you to wear. It is a great choice for people with narrow feet. The synthetic rubber sole is grippy and provides deep traction on various terrains.
Comfortable wear
The entire structure of the boot is thin and slender that prevents these boots from hitting each other while walking. It keeps you warm even under the temperature of -40°F.
Also, Kamik boots are available under your budget with more additional features.

This Kamik Hunter boot keeps you warm throughout your hunting session, but sometimes you might feel that it is overheating.
Irish Setter is the top brand available in the market. It stands out from others with its unique contribution to the products. Irish Setter Men's Hunting boot is eye catching and comes with more innovative features to hold this position.

[4.8 / 5]⭐⭐⭐⭐
Pros
Lightweight
Ultra Dry Waterproof technology
Removable polyurethane footbed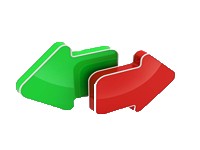 Construction
Irish Setter Hunting boot is purely made out of imported leather which is remarkable in cold conditions. It keeps your foot warm and dry from the chilly climate. Also, lightweight design enables you to feel free while you're walking.
Ankle-high shaft
Irish Setter is a good looking boot with lower shaft height. It is positioned a bit higher than the ankle for greater protection to the ankle and can be used for various purposes. This ankle high boot also features with speed lacing system and moc toe stitching system that gives the stylish outlook to these boots.
ScentBanfootbed is the notable feature in Irish Setter Men's Hunting boot. It prevents the elk from picking up the strange smell during your hunt. It is one of the best boots for elk hunting.
Breathable lining
Irish Setter is specifically designed for wet conditions to keep your feet warm. The waterproof upper part pushes back even a single drop of water falling on it. Another interesting feature here is the moisture-wicking nylon lining. It allows your foot to dry naturally. 
Sole
Moreover, the soles of the boots are padded with rubber for traction. It offers a comfortable grip on the terrains. Irish Setter has also done a superb job with cushioning for greater comfort.

As this Irish Setter Hunting boot is not made of steel, you may get hurt easily if any object falls to your leg.
Previous
Next
Bogs Men's is a well-insulated boot that ranks 4th in my list of the best hunting boots. Bogs Men's Bowman helps to keep you out of the cold. Get ready with this high-performance boot for your elk hunting.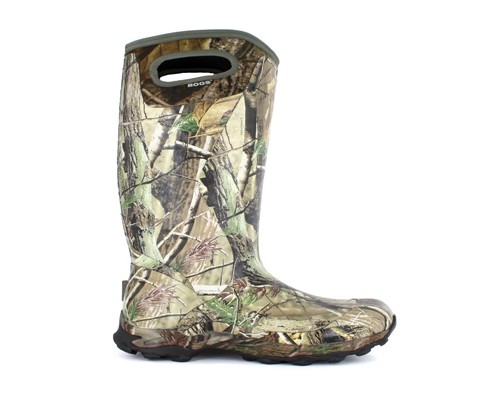 [4.7 / 5]⭐⭐⭐⭐
Pros
Excellent insulation
Scent Combat technology
Highly durable and comfort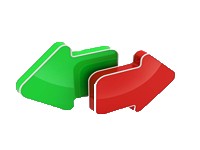 Quality
Bogs boots are the cheapest hunting boots but constructed with high-quality materials. The shaft measures about 14.5 inches with a wide opening which enables you to jump into the boot quickly without any discomfort. This boot is also made with Scent Combat biotechnology which fights unwanted odors.
Highly Breathable 
Bogs boot is also engineered with a sweat-free lining that keeps moisture away. So you can stay warm with Bogs Men's boots for long hours. The neoprene material at the top and the detachable sock liner repels water and allows your feet to stay dry.
Bogs Men's Bowman is one of the best insulated hunting boot that is highly waterproof. The unique feature in this boot is it has odder resistance and so you need not worry about the smell.
Sole
The sole of the boot is made out of rubber that can tackle any terrains. It also provides good traction. This is mostly preferred by athletes and is a perfect fit for them.
Customer suggestion
A customer has revealed that Bogs boots are more comfortable for walking than Muck boots. It is the perfect choice for short trips because it would be very easy for you to get on and off.
One major drawback here is its weight. Bogs Men's Boot is made with lightweight design but people complains that it is heavy. So you may feel that these boots weighs down on your legs.
Danner Pronghorns boot is a wonderful high profile boots that is perfect for all seasons. It is an iconic brand that delivers great comfort to their customers. Likewise this boot is also extremely light compared to other leather hunting boots.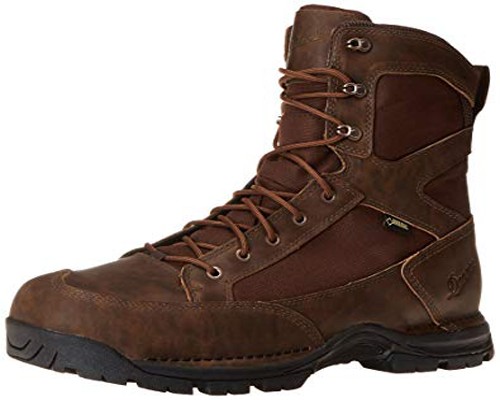 [4.7 / 5]⭐⭐⭐⭐
Pros
Excellent ankle support
Keeps your feet warm and dry
Very comfortable and wide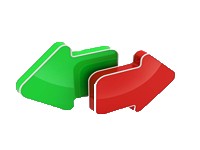 Cons
Found issues with leakage
Great Quality
Danner is built with superior quality CamoHide leather that is durable. The waterproof full-grain leather upper with a rugged sole is very comfy and supportive. It lets you move wherever you want to go in the woods.
The huge plus in Danner Pronghorn Boot is the unique triple cushioning in the footbed. This cushioning is built to deliver enhanced comfort to your heel. So you can move around anywhere wearing it.
Footbed
The bulk cushioned polyurethane footbed gives a comfortable feeling to your feet. The abrasion-resistant leather toe and heel cap will keep your feet protected from any debris in your track.
The toe box creates a wider platform for a better fit. The rubber sole with its aggressive tread provides traction and comfortable grip to your steps.
Breathable lining
The waterproof Gore-Tex lining will let your skin breath and keeps your feet dry throughout your hunting. The opening of the boot is wide enough to jump into it. Also, this boot delivers superb ankle support when the terrain gets tough. It can be used for multiple purposes say hunting, hiking or other outdoor activities.
Danner Pronghorn boot is the best uninsulated boot in my list. The only minus in Danner is, the boot is very stiff to wear. So it is painful on your legs if you're using it continuously for long hours.
Lowa is renowned for its signature model. It is an ideal boot for elk hunting. It is the favorite footwear for mountaineers, hunters and for everyone who love adventures.

[4.6 / 5]⭐⭐⭐⭐
Pros
Cut lacing system
Greater stability
Excellent ankle support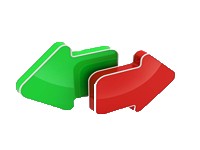 Cons
The sole falls off easily
Design
Lowa Tibet boot is handcrafted with premium quality materials that are extremely durable . This modern boots looks stylish and engineered with waterproof nubuck leather.  It is comfy and comfortable for you to wear.
Excellent insulation
The Gore-Tex Lining provides ultimate protection from rain, water or dirt. It provides complete protection from the freezing cold. So you need not want worry about insulation. Your feet will remain dry even after long hours of usage.
Lowa Men's Tibet GTX Trekking boot a wonderful choice for multi-day trekking.  It is great in performance and can be used for scrambling over rocks.
Sole
Lowa has become more popular because of its special features. It offers Tri-layered comfort to your feet with PU-injected midsole, rugged Vibram outsole, and the upper leather.  Each sole provides separate protection.
The upper ankle flex design is made for easy walking with a non slippage lacing system. The soft collar gives the ultimate comfort to the ankle. The outsole is responsible for grip and shock absorption whereas the midsole for stability.
Perfect fit
The pair of boot is relatively light and fits perfectly on your feet. It is quite roomy and can be used for people with wide feet. The footbed gives a complete feel of happiness and provides enough stiffness for the trails.
The only downside of the boot is the sizing. It comes with narrow sizing which is very difficult for you to wear. People with wide feet can't use this boot. So people with wide feet can go with other sizes of Lowa.
Kenetrek is well known for mountain trails. It is very well supported and can handle heavy loads. This stylish boot comes with extraordinary features to draw the attention of the users.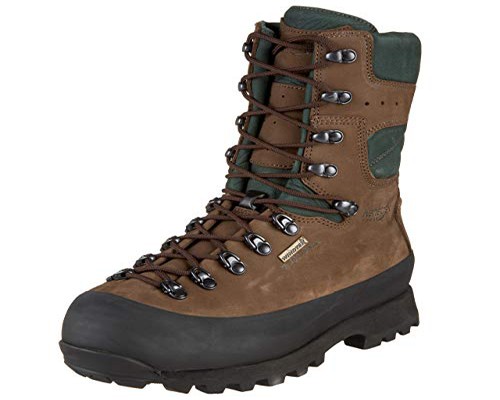 [4.5 / 5]⭐⭐⭐⭐
Pros
No water leakage
Thinsulate insulation
Excellent traction with K-talon outsoles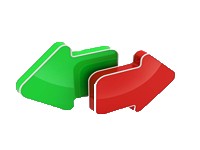 Material
Kenetrek is purely made of leather with waterproofing feature. This increases the durability of your boots. It protects your feet from moisture. These boots are reliable and strong enough to take heavy loads on any rugged and rough trail up in the mountains.
Breathable Membrane
The breathable Wind-tex membrane contributes insulation to these boot. These boot is made with unique lightweight K-talon soles that provide traction on the harsh environments. It keeps your feet firmly to the ground. The nylon midsoles add extra support in the terrain area while carrying heavy loads.
The Kenetrek Hunting boot is entirely waterproof and so you can wear it in both sunny and rainy days. The lug pattern in the sole keeps your feet steady and firm to the ground.
Collar
The tongue of this boot is made with no seams for better abrasion resistance. The low height shaft provides ankle support.
The Kenetrek mountain boot has not yet found any issues with leaking or sweating. So you can use this boot on any climatic conditions without any negation.
Insulation
The great plus in Kenetrek is the 400-gram Thinsulate insulation. It offers a breathable lining to the boot that helps to keep your foot warm and dry all time while wearing.
There is no steel protection to this boot. So you may get hurt when heavy objects fall.
Looking for a low budget boot, then LaCrosse Men's AeroHead Hunting Boot is the perfect choice for you. It provides maximum flexibility and will take you wherever you want to go.

[4.4 / 5]⭐⭐⭐⭐
Pros
Secure fit
No break-in period needed
Patented AeroForm technology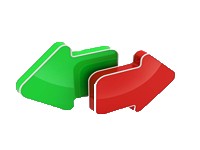 Material
LaCrosse Boot is constructed with 7.0mm Neoprene that always keeps your foot warm and dry. So it is very convenient for you to walk through water or muds by wearing it.
Technology
Moreover, it is made with Patented Aeroform Technology that delivers absolute comfort and durability to the boot. This technology offers lightweight to the boot, so you'll feel light on your feet while running. This new construction is ultimately flexible and provides a secure fit to your leg.
LaCrosse Aerohead boot dominates other boots with its ultra-light design. It looks bulky but weighs very little. So you can walk or move anywhere with ease. It is ideal footwear over glaciers, bogs and water.
Breathable Lining
LaCrosse Aerohead is a knee-high boot that is reliable and worth your money. The Gore-Tex lining in this boot is highly breathable and so you're able to hunt even on the toughest terrains.
Sole
The rubber sole absorbs shock, which is enough for most of the hunters. It adds stability to your foot and is good to move fast.
The thick polyurethane midsole deliver maximum insulation and cushioning for your feet. The thick polypropylene shank covers the entire area for stability.
Scent free
This good looking boot is 100 % waterproof and so you can walk over glaciers with great concern.
It is also made with an odor-free feature so that you need not want to worry about any strange smell from this boot. It helps you to blend into any environment.
Most of the people have found issues with the interior lining. It is highly breathable keeps your feet dry naturally. But the liner is not so sturdy, it peels off easily.
The 9th ranking in my list of best mountain hunting boots is attained by Meindl Island Wide Active Shoes. It is an ideal choice for nordic walking, climbing, hiking or other outdoor adventures.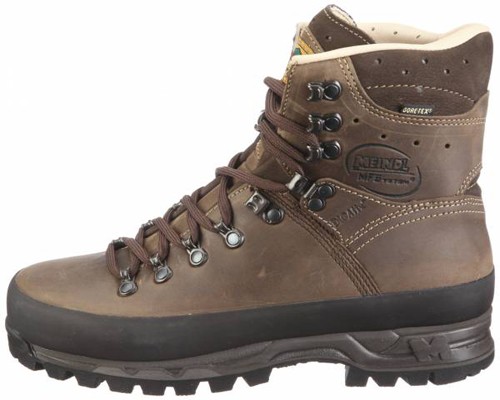 [4.5 / 5]⭐⭐⭐⭐
Pros
Torsional stability
Patented Vibram sole
Warm and super durable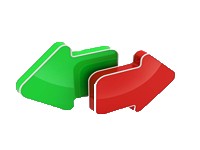 Materials
Meindl is constructed with premium quality materials of higher standards for active runners. The boot is soft enough to support you if you are walking on a steep grass slope and rocky trails.
Breathable Lining
The breathable Gore-Tex sock is attached to the interior of the boot. Around the sock is a rubber sole to protect the leather from groundwater and dew. It can also handle snow or muddy area with ease.
The lace pulls your heel backward into the heel cup to hold your foot in position. So you're steady still in the uneven terrace. Wearing this boot gives pleasant walking even on the glaciers and bogs.
Specialty
Another unique feature of this boot is the MF system which means memory foam. This foam retains the shape around your ankle to give you a secure and customized fit.
Sole
The sole has a polyurethane membrane that absorbs shock and offers great cushioned comfort. The backbone of the boot is the midsole which provides strength and support to balance you in the plain.
The patented Vibram outsole gives deep traction and grip in various directions while walking for an extended period.
We have noticed that Meindl Island boot is not wide enough. So people with wide foot may find difficulty in getting off and on.
Salomon Quest 4D is tuned with new innovative designs. It provides excellent support and protection for your challenging trails. It also performs great in rocky or uneven terrain.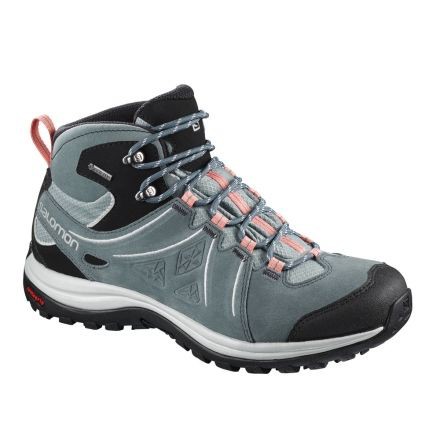 [4.3 / 5]⭐⭐⭐⭐
Pros
Easy to recock
Solid metal frame
Customizable sights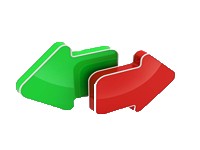 Construction
Salomon Quest 4D is designed with the running shoe adapted technology. The thin and light construction of Salomon is better enough for backpacking. The Gore-Tex lining in it is breathable and can run through all weather.
Great Quality
Salomon Quest hiking boot is built-in with premium quality leather that adds longevity to this boot. It provides enough protection for trail running and performs well in isolating your feet from the ground.
The wet traction Contagrip adds waterproofing feature and delivers complete dryness to the boot. The new tread design and the lugs are soft and solace.
The winning feature of this boot is the toe box. It has a wide toe box with soft cushioning that protects your toe from injury. It is best suited for adventure racing and trail running.
Advanced Technology
This boot is famed for providing burly protection and comfort for your feet. The 4D chassis and the foam cushioning provide resistance against twisting. It delivers maximum comfort and stability to your heel. So you can carry heavy loads even on the rocks.
Perfect fit
The Sensifit with quick lace gives shape to your feet. The excellent lacing system and the hooks at the top help to lock your heels while climbing. Moreover, this boot provides extreme comfort and reduces fatigue over long treks.
The padded ankle collars and the lacing system in the boot hold your foot comfortably in position.
The only negative we noticed here is that it falls apart easily and so you can't use it across backcountry in harsh mountain conditions.
What to consider before buying?
To make your outdoor trip a pleasant one, check out whether your footwear falls under all these major categories.
Comfort
Everyone says, "Comfort is a king". Because the most prominent factor, one has to consider in footwear is comfort. For e.g., wide footed people prefer large spacious boots while others prefer the narrow sized one. So it completely depends on the users.
Finding an ideal boot that makes your feet happy is a challenging task. If the boot that you have chosen does not fit you, then it may cause blistering, turning your hunting trip into a nasty one. So before making out a purchase ensure whether the boot fits your feet. 
Weight
The weight of the hunting boot falls under three categories, namely, lightweight, mid-weight and heavyweight.
Using lightweight boots for the trails can prevent you from knee and hip flexor problems. But if you are carrying a heavy pack, then lightweight boot can't support you much. Depending on your adventurous trip, you have to pick the new balance boots.
Water Resistance
If you go hunting during moist weather conditions, then your footwear would get wet quickly. And water will be soaking into your boots. Also, it'll be hard to dry during the moist air.
At this situation, waterproof boots will give you the hand. The boots like MuckBoots will help in quick dry and keeps your feet warm.
All these boots we tested are waterproof that prevents water from entering in. Keep your feet dry and stay comfortable with the products listed up.
Ankle Support
Another important factor you have to consider is the terrain. Choosing an elk hunting boot also depends on whether the terrain you hunt is to be high or steep. Backpacking boots will be the right choice for that situation. These boots are made with a soft, cushioned collar around the ankles that keeps your feet comfortably in position.
Breathability
The next important consideration is breathing capability.
If you go hunting during hot sunny days, then your feet would sweat a lot. So you may cause blisters on your feet. To avoid this, a breathable mesh layer has been attached to every boot. It provides the flow of fresh air into the boot.
Insulation
The crucial thing when you are in the wild is rain or snow. At that situation, your hunting boots should provide adequate insulation to your feet.
Check whether the upper layer is insulated. This prevents warm air from leaking out and cold air to enter in.
Traction
Traction is a notable piece in footwear that prevents you from slippage. The best quality traction in the footwear holds your feet firmly and saves you from slipping. Rubber soles would be great for climbing.
If you love hunting at snowy conditions, then lugged soles will provide you the best comfort and stability in the snow.
So, check out these tractions before purchasing the footwear for your hunting.
Durability
The next thing you have to consider is durability. The hunting boots or any other boots we choose should last for long and should be adaptable to all weather conditions.
More durable boots tend to be heavier and bulkier. It's not that lightweight boots are not durable. Don't judge by its outlook. Its value is realized only after countless walks and multiple years of usage.
Break-in period
Different varieties of boots have a different break-in period. Some boots are always ready to worn out of the box while others take weeks to break in.
This feature is very important because it prevents hotspots, cramps during your hunting trip. Don't choose boots that take a longer time to break-in.
Socks
Most of the areas you're going for the hunt will be wet. Moisture wicking socks will always help you to keep your foot warm and dry. It is a great benefit if you take a pair of socks along with your boots.
Cost & Performance
Spend a little extra for quality. Premium quality footwear usually costs a bit higher. Based on your comfort and budget, pick the footwear from our top listing.
Final Thoughts
Hunting is one of the ways to connect you with the natural environment. Going with hunting boots will give you walking comfort and make your trekking experience more enjoyable. It keeps your foot warm and dry to hit the trail with the smiling face.
I hope that the above guide has provided useful information to you. Try out any of these above products for your next adventurous trip and enjoy your hunting.