Last Updated on May 13, 2023 by
Sharp Broadheads are essential to Bowhunting success because not all Broadheads are equal. If you're thinking about crossbow hunting for elk or deer then it's important to understand the different equipment you need to buy and focus on. Best tools are always needed for successful hunting.
Fixed, Guillotine and mechanical Broadheads are available for Crossbows, but what type of Broadhead is best? It strongly depends on your personal opinion because you know what works best with your bow, and how you like to kill them, let's take a look at the different types and its benefits in a more in-depth manner.
Which Are The Best Hunting Broadheads?
Fixed blade Broadheads comes in two, three, and four blade options with a wide variety of shapes, cutting diameters, and grains. There are chisel-point Broadheads with replaceable blades and cut on contact Broadheads. These blades are highly reliable because single piece designs tend to be stronger.
The Muzzy 4 Blade Broadhead is the best choice for hunting deer and other animals from the ground. The trocar tip with four blades produces a large wound channel; the remarkable feature of Muzzy is the tip. Its stainless steel shank and overall construction of this Broadhead helps in hunting deer easily. These Broadheads not only have field point accuracy but leaves an enormous wound of a blood trail.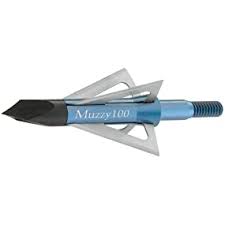 Best Crossbow Broadheads for Hunting Deer
Nowadays there are plenty of Broadheads offered for crossbows so it can be quite tough to figure out which one will be the best. Rage Bowhunting CrossbowXMechanical Broadhead is the best flying Broadheads on the market with an outstanding accuracy and flight pattern.
• The penetration creates a wide entrance and exit woods
• Leaves a huge amount of blood trail
The CrossbowX is one of the very few mechanical Broadheads which has a cut on contact. Its large entrance creates a large entry and exit wounds so you'll never lose your target because the highest run the deer can make will be about 15-30 yards. The blades are effective and open up from the rear before reaching the target. It offers a deep penetration even from longer distances.
Best Crossbow Broadheads for Hunting Turkey 
Rage Xtreme Broadheads are an excellent choice for gobblers; it has designed a new Broadhead specifically for turkey hunters. This Broadhead weighs 100 grains feature .035-inch thick blades, and has a Shock collar technology.
The G5 Montec Broadhead is also best for hunting turkey; it comes with a traditional durable head and replaceable blades -this feature makes it ideal fixed Broadheads for turkey. It has three blades that are placed in a rear-deploy design which allows each blade to work independently in flight.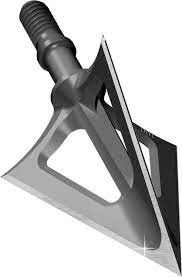 Choosing The Best Broadheads For Deer Hunting
Broadheads can make or break your hunt. You want to choose the Broadheads with blades that can easily reach your target.
So Broadheads with sharp blades can easily penetrate and cause serious wounds on a deer with a lot of blood trails to track them down. Check out the material of the head and ensure that is made of carbon steel as they are strong and solid. The Broadhead you choose must be durable, robust, and spins swiftly to hit the target.
Go with the best Broadheads, make a smart choice and be effective in this field. All the reviewed Broadheads are some of the best brands in the market, so pick the one that fits your archery style.