Last Updated on May 13, 2023 by Dwayne Easton
Hunting boots are a must in cold weather, but which pair should you buy? We've done the research so that you don't have to!
Being a hunter, I know the fact that cold issues can completely ruin someone's hunting day. I also suffered a lot and faced most of these problems myself when I was younger. Over time, I have learned the hard way to choose my hunting boots.
My top pick is the Original MuckBoots Adult Hunting Boots. These boots have high-quality, slip-resistant rubber outsoles that provide me superb grip even on most slippery surfaces.
I usually go out for hunting in winter, especially in February, when the temperature is cold. I love to go out for hunting in winters during snow due to many reasons. The main reason is: animals are easier to spot. I always choose my gear especially carefully to hunt in coldest days. Being uncomfortable in freezing cold it's not fun. The Original MuckBoots provide quality aeration. They are made with the premium fiber material, which makes them breathable. An exclusive flex-foam layer is also included to make them airier. Therefore, they deliver sufficient airflow to the feet and prevent them from sweating and getting cold. This makes The MuckBoots suitable for hunting in all types of weather like snow mud, slush, etc. The feature I love most is the kick rim of these boots. It allows me to remove them easily and without causing any damage on them. Above all, these boots are lightweight, I feel like I am wearing nothing on my feet. They are abrasion-resistant and built to last long. Who makes the best hunting boots.
One can easily purchase these boots through their website online. Sometimes they put them on sale also while Sometimes they have web special offers which one can avail from their online store. If you like to invest money one time and for long term benefits, invest it in these Muck boots. It will save you in longer terms, and you are going to love them. Another good investment would be the Lacrosse Men's 4X Alpha Snake Boot. As the name suggests, they are especially designed for protection against deadly snakes. This unique feature is combines with comfort and durability. It has a 90-degree heel which makes climbing easier. The ankle part of the boot is designed to avoid any blisters.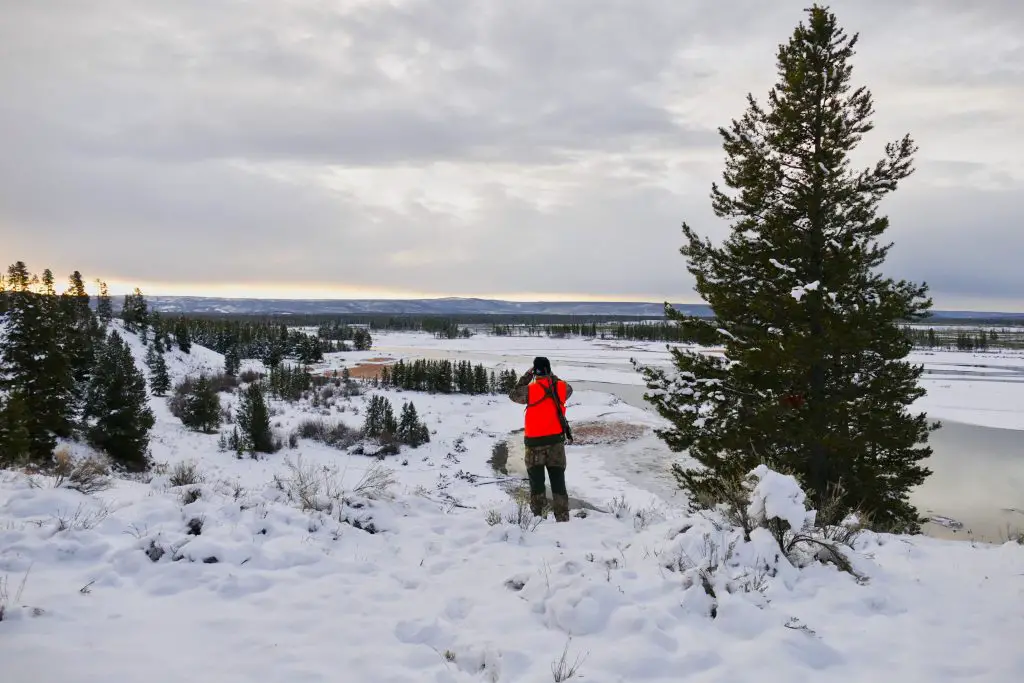 My third suggestion would be the Irish Setter Men's 2875 Waterproof hunting boot. It is composed of leather and rubber. The special feature of these boots is being anti-bacterial (has a ScentBan inner lining) and keeping the foot dry at all times. It comes up to your knee and it is suitable for any terrain. Just like the Lacrosse Men's 4X Alpha Snake, Irish Setter Men's 2875 Waterproof hunting also offers a snake guard of 17 inch. Last but not least, my recommendation for hunting in tough terrain would be the Kenetrek Mountain Extreme Ni Hunting Boots. Just like the name suggests, they are designed to support your feet in your mountain hunting trip. They support and protect your lower calf muscles which prevents any undesirable injuries. The Kenetrek Mountain Extreme are one of the most pricy hunting boots out there, however they are considered to be a long term investment and have proven to past for a long time.
How Much Thinsulate Do I Need In Hunting Boots?

400 Grams Thinsulate is enough for hunting boots.
Thinsulate is a fabric that is made from a kind of synthetic fiber. It is woven together in different thicknesses. It can keep you warm at a different level of temperature.
Thinsulate ranges from 40 gsm to 800 gsm. (Here GSM is known as Gram per square meter).The GSM has a positive relationship with the protection in extreme weather .i.e the lower the gsm, the lower the protection provided by it in colder weather. If your boots have Thinsulate insulation, they are water-resistant and keep your feet dry. A Thinsulate material can easily be washed right in a washing machine. Thinsulate insulation gives you a variety of choices to select from. You could choose considering how much insulation you need according to temperature and the activity you want to perform.

Hunting in extreme weather like snow, ice, or rain can put a hunter at risk, especially for frostbite. Feet often get wet, making your feet feel even colder. Thinsulate has the feature to retains its warmth even your shoes get wet, or you sweat. There are three levels of insulation in boots. Uninsulated to 200 g: These boots are best for early seasons and higher activity levels. 400 g to 800 g: This category suits to most of the hunting boots with insulation levels that cover most of the hunting situations. 1000 g and up These boots are manufactures for colder, winter weather, and toughest activities.
What Temp Is 400gr Thinsulate Suitable For?

400gram insulation is best for temperatures as low as to -40 Fahrenheit /-40 degrees centigrade. Thinsulate insulation comes in different degrees, from 200G to 1000G. The G stands for grams per square meter of insulation. This means that the higher the Thinsulate number, the more insulation is provided. It shows they have a positive relationship in between. The 400 grams Thinsulate is an ideal choice for cold conditions or moderate activity levels. 400-gram Thinsulate provides a higher level of insulation than 200-gram Thinsulate. This degree of insulation would best serve for those participating in extreme cold-weather activities.