Last Updated on May 13, 2023 by
Oh beginner hunters, you're in for a treat! The SA Sports Fever Crossbow Package is a crossbow perfect for those just starting out in the sport. The SA Sports Fever Crossbow package review will tell you about the wide variety of features that make it an all-in-one crossbow package.
We do have a few other beginner crossbow reviews you might want to check out, such as the Barnett Jackal Crossbow Review & the Barnett Wildcat C5 Crossbow Review.
The SA sports Fever crossbow has an amazing shooting speed of 240 FPS.
It is extremely light weight, weighing merely 4.85 lbs.
Padded shoulder sling, providing real comfort to hunters when moving about with the crossbow.
Included rope-cocking device, making cocking the Fever crossbow smooth and easy.
Ambidextrous auto safety, catering to all hunters.
SA Sports is a US-based company that specializes in the manufacturing of top  quality crossbows and outdoor outfits. Though their management and ownership has changed over the years, they followed the principles and ideals of the company, and stuck to the commitment of  producing innovative and high-quality hunting equipments that satisfy the needs of professional hunters.
The SA Sport Fever Crossbow is a great crossbow for those entry-level hunters who are just starting out with hunting and target practice.. This package includes a 175-pound recurve crossbow premium 4×32 multi-reticle scope, a quick detach quiver with 4 16" Aluminum arrows. The 175-pound draw weight is going to produce an arrow speed of up to 240 FPS, making it great for hunters who want a lightweight, compact and secure crossbow to carry them on their hunting trips. It's power is good enough for hunting small game, deer, rabbit, as well as for target shooting.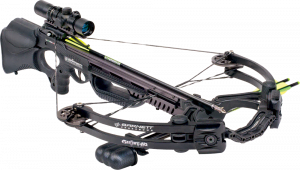 Pros of SA Sports fever Crossbow
Fairly inexpensive
The Fever crossbow is truly a great crossbow for beginners. Though the price is inexpensive, the Fever Crossbow's features and design don't look so. Its light weight allows hunters not to be bogged down and  get exhausted while travelling to their hunting trips. If you're just starting out, you'll have to get accustomed to carrying around your crossbow for long hours.
The ambidextrous auto safety removes the hassle of finding a crossbow specifically for left-handed hunters, which is a good gesture from SA Sports. The auto safety will automatically get engaged when the hunter cocks the bow. Besides, considering the expensive price of the Fever Crossbow, SA Sports provides a 1-year warranty on their crossbows. You may think that this is pretty short duration for warranty, but when you consider the price of the crossbow, it seems good enough.
If you are actually looking for a higher level crossbow, we highly recommend the likes of the Barnett Ghost 410 CRT Crossbow (read more) which is a higher priced crossbow or the likes of this product the Barnett Outdoors Brotherhood which is somewhere in between.
All-in-one package
It has to be remembered that  the Fever Crossbow is a true all-in-one package. It has  ambidextrous auto safety, anti-dry fire device, fibreglass quad limbs, integrated full barrel rail, detachable quiver, adjustable mount fore-grip and a rope cocking device. In other words, the SA Fever is a fully-equipped crossbow.
Though the quality of some of these parts may not be withstanding long-term use, and may need replacement from time to time, it really does come with everything. So far as its external features go, the design is sleek and it has a high-quality camouflage finish. You will be required to assemble the crossbow yourself, but it's rather easy to put together and takes less than  30 minutes to complete. If you haven't assembled a crossbow before, there are YouTube videos to help you.
Hunts most small targets
The Fever crossbow is capable of hunting most small animals. You can easily hit small game like deer, and rabbits. However, target shooting is also another option for this  Fever crossbow users. For larger game such as deer and elk, you may need to switch the arrows to 20", as the 16" may just only kill the animal. However, as a beginner,  it is better to start out with smaller targets first which you can manage easily.
Cons of SA Sports Fever
Bolts are rather fragile
The bolts on the Fever Crossbows are not long-lasting. But you can hardly complain since the crossbow is so inexpensive!  They will need replacement at some point of time, of course, and you should continue to use them until they break. But be prepared to have some extra bolts available for use because you will need them. If you have the right bolts, customers have claimed, you can easily take down a whitetail buck from 25-30 yards away.
Shots may go off target
In terms of accuracy, the 4 x 32 multi-reticle scopes isn't really the best one available on the market. It's been pointed out that the SA Fever does not shoot straight shots. The aiming reticles often shift from side to side, making the hunter incapable of having a true hold on his target. However, if you buy a decent scope, this crossbow is as good as any other. The crossbow doesn't have the best low light capabilities, but it functions competently in good daylight conditions and is capable of withstanding rough weather conditions.
Requires stringing during assembly
When you assemble the crossbow for the first time, you are required to string it. If you haven't restrung a crossbow, this may be quite a challenge. Nonetheless, there are numerous videos on YouTube that teach you how to properly string a crossbow during assembly. You can go through them carefully and learn to do it yourself.
Safety and Design
Some people who are regular hunters claim that this crossbow has some design flaws, which includes the trigger pull. The trigger has quite a long draw, and it does not break cleanly. A bit of lubrication will help for a while, but it still lacks the clean break that you would get on a slightly more costly crossbow.
Conclusion
What is good about this crossbow then?  Well, considering the small price you have to pay compared to other models, we would say that this model comes with everything a beginner requires. The SA Sports Fever does satisfy all the basic needs of a hunter at a modest price. And after going through the SA Sports Fever Crossbow package review, we are sure, you also now know why it has been dubbed so.
Obviously, if you're an expert hunter, this crossbow is definitely not for you. But, keeping in mind everything, its good points and bad points, it's a reasonably good crossbow at this price range. You will need to make some minor investments, after you buy it, but you cannot have everything at this price. All in all, it's a fairly good crossbow for the beginner who is out to have a taste of crossbow hunting. So, if you are a beginner and looking to buy a simple crossbow without paying much, the SA Sports Fever is quite a bargain and perhaps one of the best crossbows for the money.