Last Updated on May 13, 2023 by
Welcome to this Excalibur Axiom SMF crossbow review, where we detail all the pros and cons of this crossbow, which is regarded as one of the best crossbows in the world – wow! There are many hardcore professional hunters who swear by this Excalibur crossbow because they feel that it represents unmatched quality and state-of-the-art technology.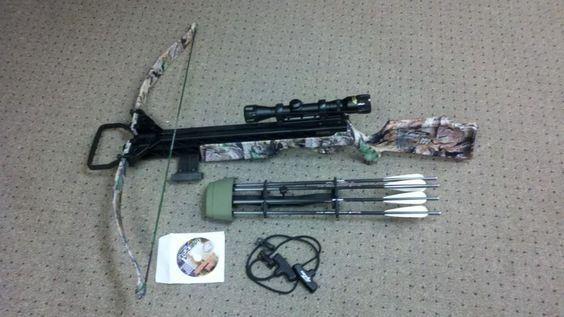 The Excalibur Axiom SMF Crossbow Kit is the ultimate hunting package for both the beginner and the professional hunters. This crossbow arrives with a quiver, arrows, a scope and a cocking aid all solidly packed in one box. Also in the package, you will find an instructional DVD that is going to help you assemble the crossbow.
This is a budget hunting kit which is fairly affordable. It has been made with inexpensive materials, but it is tough, durable, light and easy to use. For instance, Excalibur has replaced the common aluminum rail with a fiber-reinforced plastic which is quite hardy and able to handle any accidental impact. The Excalibur Axiom SMF Crossbow only measures 37.2 by 9.9 by 5.4 inches and has a weight of about 7.2 ounces. If you are an accomplished hunter, you should know that you have before you a champion product that offers great value for money.
Features of the Excalibur Axiom SMF Crossbow
 Power and strength: The Excalibur Axiom SMF Crossbow, being a recurve crossbow, derives its power from draw weight as well as from the draw length. Its power stroke is 14.5 inches. This actually refers to the distance between the string position while not in action and its location when it is fully drawn. This feature enhances the shooting power of the arrows, making this the one of the most powerful crossbows on the market.
 Mass weight: This handy crossbow only weighs 5.8 pounds. It is built with advanced technology that gives it massive acceleration without being a burden to the hunter or the shooter.  This particularly makes it suitable for carrying around if you are not shooting from a stationary position
 The length of the crossbow: The Excalibur Axiom SMF Crossbow measures about 37.5 inches. This makes it fairly easier to handle, especially in tight hiding places and increases its portability.
 The length of the arrow – The package comes with arrows that measure 20 inches. This ensures that they will cut through the air at a speed of 305 feet per second and smash into the target.  With this kind of bolt and the amazing arrow speed, one can be safely assured of hitting the target both from far and near.
Draw weight – This crossbow has 175 pounds of draw weight. This is the weight that the hunters feel when they pull the bowstring back before shooting at the target. Whether one will kill or injure an entirely depends on how they pull the bowstring back. This crossbow has a comfortable draw weight that increases accuracy and precision.
4- arrow quiver – In the Excalibur Axiom SMF Crossbow kit, you will also find an excellent quiver which has mounting brackets that enables you to mount the arrows either on the left or the right of the crossbow.
 Multi reticle scope – This scope is an absolute necessity for short or medium range targets. It provides great views with high precision, clarity and accuracy.
Camouflaged model hand – It is fully camouflaged with jungle prints that blend well with the natural backdrop of the woods.
Pros of the Excalibur Axiom SMF
The crossbow has an outstanding arrow speed of 350 feet per second, which is faster than most of its closest competitors. This velocity is produced by the draw weight of 175 pounds and a power stroke of 14.5 inches. Thus, the speed similar with the Excalibur Matrix 355 Crossbow & Barnett Outdoors Brotherhood Crossbow (click here).
The scope provided is of excellent quality and hence your accuracy and precision are guaranteed.
The manual safety is easy to handle and is comfortable for using with gloves.
The arm is made of fiber plastic in place of of aluminum, trimming its overall weight to such a low level that anyone one can handle it irrespective of his physical structure.
The cocking aid makes the Excalibur Axiom SFM crossbow is a great help for the hunters.
Cons of the Axiom SMF crossbow
For rather complicated situations or hunting sports, this crossbow may not be to your liking.
It limits how far you can shoot. Few people have complained that it would be rather difficult to accurately target something beyond 40 yards.
Its built is rather wide and cumbersome. Therefore, unless you are hunting on the plains or open fields, you may face some difficulty; especially in dense bushes you may find it hard to maneuver your crossbow.
How to use the Excalibur Axiom Crossbow
Now that you are aware of all the components of the Excalibur Axiom SFM Crossbow kit, it is now fairly easy to learn how to use the crossbow. Since the draw weight of the crossbow is about 200 lbs, a cocking aid is thoughtfully included in the package. For, one thing, the manufacturers realize that it will take a good deal of effort to use this crossbow, particularly for beginners or for those whose physical strength is limited.
Sighting is an important aspect in any hunting expedition. This particular crossbow comes with a powerful scope to help you zero in on your target before shooting. It makes your work easier than just relying on your naked eyes to view an animal, especially when the target is in motion or far from you. The sighting unit gives you a set of magnifying lenses that enable you to view your targets moving further away.
When you are sure that the target is within the shooting range, it is time to draw the bowstring. This requires some degree of control from your side, but with the cocking aid, you should not have any problem whatsoever. At this time, your hand should grip tightly on the hole provided on the limb. This will ensure that you do not have to bear the full impact of the shooting as the bolts or arrows released run towards the target at a breakneck speed of 350 feet per second.
If you want to hit the target accurately irrespective of the distance, it is better to draw the bowstring back further. This is what determines whether you will kill the target at one shot or merely injure it. If the latter happens, you might face a big problem because your target, if it is a ferocious one, will pounce back at you in no time.
Excalibur Axiom SMF Crossbow Review–Final Analysis
We are sure that you will not hesitate to buy  an Excalibur Axiom SFM Crossbow . The price is hardly comparable if you consider the advantages this crossbow offers. This Excalibur Axiom SMF crossbow review will undoubtedly give you a broad idea as to why you should buy this crossbow for your shooting or hunting purposes.
This well-crafted crossbow is capable of generating arrow speed more than 305 feet per second and like all Excalibur crossbows, its accuracy is remarkable and its reliability outstanding. Generating lot of horsepower, the Axiom SMF has the necessary power to handle any of North America's largest game.  The Axiom SMF kit is designed to help both the new as well as the seasoned crossbow hunters to enjoy hunting in the woods. The Excalibur offers great quality at a moderate cost, but you should make no mistake, this is one deadly hunting combination! The manufacturing quality, reliability, and accuracy of the Axiom SMF Crossbow are comparable to  the most expensive models available on the market today. Get one now and start hunting!
See our all recommended crossbow's at BCG.