Last Updated on May 13, 2023 by Dwayne Easton
If you are passionate about crossbow hunting and looking for a good hunting crossbow to practice with,  you must put your money  in one that is tough, durable, efficient, lightweight and reliable – like the Excalibur Matrix 355 Crossbow, which we've thoroughly researched for your convenience!
The Excalibur Matrix 355 is one of the most-sought-after crossbows available on the market today and it comes with a Tact-Zone, five-reticle scope and it is specifically designed to ensure easier cocking, enhance the shooting accuracy and also improve the overall balance of the crossbow.
How Does the Excalibur Matrix 355 Work?
The crossbow depends on what is called Compact Recurve Technology (CRT), and it has an incredible speed of  at least 355 feet per second. The crossbow is highly user-friendly and easy to assemble and use, thanks to the ergonomic design it has and also because of its quad-loc riser. The crossbow has a mass weight of only 5.4 pounds and uses 18-inch long arrows. And it should be noted that the crossbow can be used by both beginners and professional hunters with lots of experience behind them.
When it comes to the mechanism of action of the Excalibur Matrix 355 crossbow, it must be said that the scope requires little adjustments, because of the fact that it is illuminated and it is designed to enhance the visibility even in very poorly-lit environments. This means you can you use it at night without any difficulty.
The crossbow comes with multi-coated lenses that offer you a very clean-and-crisp image, and it also comes with 4 screw-in field points that are stout and durable.
The string of the crossbow generally last for about 1500 shots, provided that you keep it properly waxed in between each shot you take.
The crossbow has a sturdy construction that makes it very durable in the long run, and one of the most notable aspects is that its construction is designed to reduce arm fatigue by transferring most of its weight on the back of the crossbow. This not only makes it very lightweight but also very comfortable to hold and use at the same time.
If you like the sound of the Excalibur Matrix 355, you would perhaps also like the Excalibur Matrix 405 Mega Crossbow review we have.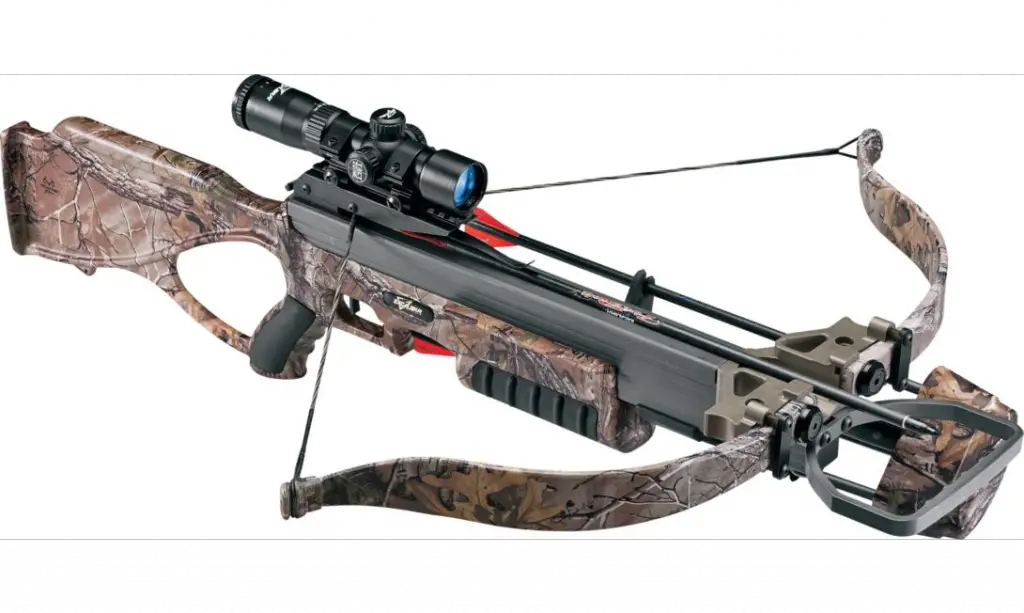 Kinetic Energy delivered by the Excalibur Matrix 355
We already know that this crossbow has the power to deliver 350-grain arrows at 355 FPS, but  ona may ask–how much kinetic energy do these  arrows have behind them? From point blank range, the Excalibur Matrix 355 delivers around 98 ft. lbs. of kinetic energy. This is more than enough  power to take down even the toughest North American game, like a deer, or a grizzly bear, or a buffalo.
The Excalibur Matrix 355 Scope
The crossbow comes  with a Tact-Zone five-reticle scope. As already mentioned, the scope is very well sighted and require very minimal adjustments. The top-most reticle is zeroed at 20 yards, and the rest of the reticles are automatically sighted for 30, 40, 50 and 60 yards, respectively.
You will have to keep in mind that this is an illuminated scope, so each reticle has a red/green-dot centered in the middle that increases the visibility of the target in poorly-lit conditions. The lenses are multi-coated, and this allow it  to gather more light than the average scope, and hence provide a clearer view of the target  irrespective of weather conditions.
The Arrows
The Excalibur Matrix 355 arrives with 4 carbon arrows; 18″, 350 grain. In order to maintain accuracy and velocity, you would do well  to use arrows with the same specifications as those  supplied with your crossbow package. We, however, already did test  the Matrix with 20″ arrows and it performed remarkably well.
Four screw-in field points are included as well, at a weight of 150 grain each. The field points and the   arrows are very durable and match the quality of even the best crossbow arrows out there, including those made by Easton. For hunting purposes, though, you will need to get hunting broad-heads for your arrows, and, needless to say, they should weigh 150 grain as well. The Excalibur Boltcutter broadhead pack is a great choice and you can have them from Amazon.
Durability & Construction
The Matrix 355 is as tough and durable as it might seem to you when looking at the picture in this Excalibur Matrix 355 crossbow review. This crossbow comes with PowerLoad limbs, which, according to private individual testing, proved to be on average 40% more durable than regular limbs on cheaper crossbows. The Ergo-grip stock design is a splendid feature. There is a cool hole where your thumb can be placed, and there are finger guards, and the rubber-grip design eliminates slipperiness.
The majority of Matrix's weight is distributed in the back portion, which makes it really comfortable to hold as you don't feel the tip dropping down while you are aiming at the target. It is obvious that  Excalibur has  put a lot of thought into improving the structural pattern of this crossbow.
When you closely inspect the crossbow, you will find that the string always manages to stay away from the rail, which evidently will provide the string with longer life. Besides, if you want to reduce the vibration and noise even further, you may, if you so desire, buy a pair of Excalibur R.E.D.S. Suppressors which are attached to the limbs and are made exclusively for the Matrix crossbow series.
If you are not yet sure if the Excalibur Matrix 355 is the one for you, dont forget to check out our Best Crossbow Review Site hunter.guide.
Excalibur Matrix 355 Pros and Cons
One of the main pros of this crossbow is that it is very easy to use and the maintenance-cost is also very low.
Being designed to be used from distances that exceed 70 yards, the crossbow is very accurate. It displays outstanding performance and has a very user-friendly scope that requires very little adjustment. In fact, the crossbow can be practically used right after unpacking it.
The crossbow is perfect for target practice, and it also comes with 4 well-designed arrows that you can use during the training sessions.
At the same time, the crossbow has sturdy limb pockets, a large and comfortable foregrip and it also comes with power load limbs that certainly surpass your initial expectations.
The wide shoulder plate is yet another notable advantage of this crossbow, as it is specifically designed to prevent the ugly recoil that occurs when you shoot at the target, while ensuring a greater  degree of comfort.
On the other hand, the product does have some disadvantages as well, and one of the main disadvantages is that it lacks the anti-dry-firing system, which means that the user must pay careful attention when cocking the crossbow.
At the same time, some users have complained  that the string noise coming from the crossbow is louder than  expected, and the fact that the package does not include a string silencer (you can purchase it separately, though) and this can be seen  as a disadvantage.
The Excalibur Matrix 355 Crossbow Review—Final analysis
Going through this Excalibur Matrix 355 review, you will surely understand  that the Excalibur Matrix 355 crossbow offers a great value for the money. It is cost-effective, feature-rich and quite versatile. This crossbow can be used irrespective of weather conditions. It is tough and powerful; it has a dependable trigger, an ergonomic design and a comfortable structure that adds to its accuracy, stability and clarity of vision.
This crossbow has everything passionate crossbow hunter needs, and little wonder that it is chosen by a huge number of hunters all over the world as their favorite hunting equipment. That said I do know a few people that prefer the Barnett Ghost 410 CRT Crossbow for hunting.