Last Updated on May 13, 2023 by
Spotlights and flashlights are an essential asset for everyone. Whether you go hiking, biking, camping, or hunting, they can be helpful in many ways. As a deer hunter i use a crossbow in the daylight but i also enjoy night hunting and spotlights are a must-have for this purpose. After mastering the daytime search, I decided to move onto the next step, which is night hunting (of course following the law). Night hunting gives a diverse and distinct variety of animals. Spotlights and flashlights always come in handy for me when finding a downed game at night. They come with a variety of exclusive features.? In my years of hunting, I came across many spotlights and flashlights. Some of them became my ultimate favorite, while others were not worth the money. Below, I have narrowed down my favorite spotlights and flashlights for long-distance hunting.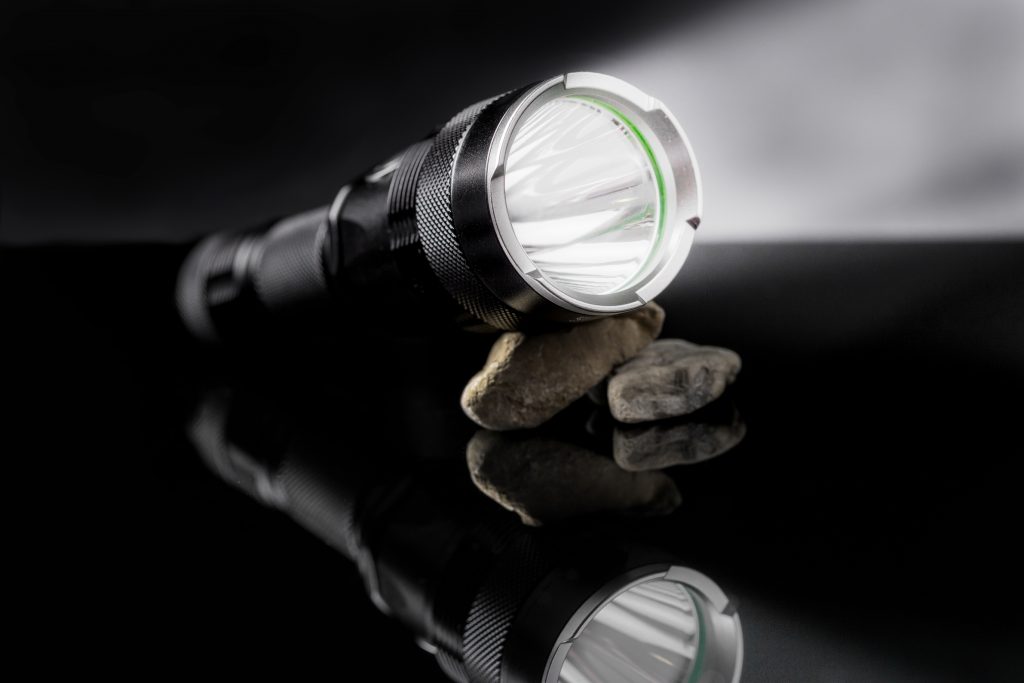 Streamlight 44910 Waypoint Spotlight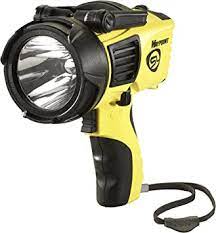 My first pick for this list is the Streamlight 44910 Waypoint Spotlight. This Streamlight creation is one of the best handheld spotlights for hunting. Engineered with shock-proof technologies, this Spotlight is well-known for its durability. The casing and the lens composed of polycarbonate adds to its strength. The lens exhibits a working lifetime of 50,000 hours. A rubberized O-ring seal protects it. This helps the Spotlight to function well in rain and deep water. The fascinating thing about this product is that it is reusable even after it falls into 6 feet of water. It will also float up to the top, so you wouldn't have to go into the water. This Spotlight has built-in features for severe conditions and weathers. The lighting provided is impressive and produces 1000 lumen on high. It has a rechargeable lithium-ion battery which takes only 4 hours to get recharged. With the pistol-gripping property and weight of only 1.5 pounds, you can travel anywhere with it.
Pros
Impact-resistant up to 3.28 feet
Water-proof and durable
Rechargeable and huge battery capacity
The rubberized O-ring seal around the lens
Pistol grip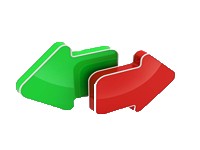 Cons
The lens is susceptible to scratches
Standard brightness
Streamlight 44905 Waypoint Pistol-Grip Spotlight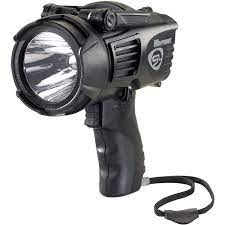 After using the Streamlight 44910 for quite some time, I decided to give Streamlight 44905 a try. The Streamlight 44905 Waypoint Pistol-grip Spotlight is the best outdoor long-range Spotlight. It is also the best handheld spotlight that survives any turbulence. Another unique characteristic is that it is compatible with both a rechargeable battery and 12V cord. This gives flexibility to the people using either a vehicle or travelling on foot. It has a medium weight of only 1.8 pounds making it portable. It features polycarbonate and rubberized lens, providing durability to this Spotlight. Three lighting modes control the LED signals. It provides lighting up to lumens from low to high mode. This model has a satisfactory water-resistant property. It has an average of 8.5-hour battery life. It is one-meter impact-resistant with polycarbonate housing. Thus, it is an overall best spotlight for hunting.
Pros
Pistol-grip and durable
8.5-hour battery life
Cushioned-grip
Water-resistant
Compatible with two batteries and 12V cord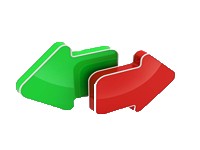 Nocry Water-Proof Rechargeable Flash Spotlight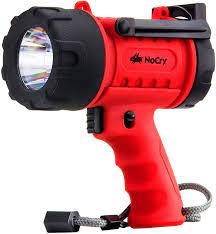 This spotlight is the best rechargeable option to take care of your budget as it did for mine. With ABS impact and polystyrene casing, you can get many advantages. The super-bright 18W LED lights have three different brightness levels. The levels have 100 lumens at low, 500 lumens at medium and 1000 lumens at high mode. A rechargeable 7.4-Volt lithium-ion battery is incorporate in it. The battery has a use time of 20 hours in the lowest mode. This model is water-resistant, and it will not sink into the water. It is lightweight and small; perfect for carrying over long distances. It comes with a light filter with white and red lighting settings. Thus, allowing you to expand your hunting game. One downside linked to it, is that there is no power indicator. So, you have to keep track of the usage time.
Pros
Compact and durable
20 hours long battery life
Red and white removable light filters
ABS and polystyrene casing
Three different lighting modes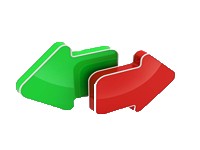 Cons
No power indicator
Charging is a bit tricky
Brinkmann 800-2301-0 Q-Beam Spotlight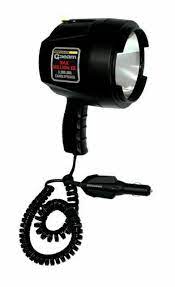 This product is my nr.1 pick for long-distance hunting. With a simple layout and flexible gripping, it is different from others in the market. The Brinkmann 800 2301-0 Q-beam spotlight stands out because of its rugged construction. It is made of high-quality ABS plastic, making it shock-proof and impact resistant. The lens has a rubber gasket seal making it water-proof. This spotlight features a powerful halogen-based, 100-watt bulb. This bulb provides the lighting up to 12000 lumen. It produces a high-intensity beam. Hence, it provides the means to use it in heavy rain and foggy weather. The 12-Volt rechargeable battery has a long-running time. It is user-friendly with easy access ON/OFF sliding switch. The bottom line is that it is sturdy, durable and useful.
Pros
ON/OFF sliding switch
User-friendly and portable
Comes with a metal mount
Built with high-quality ABS plastic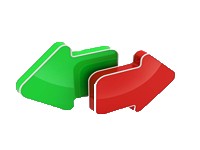 Cons
Some buyers find the product gets hot long usage.
Browning High Noon 4C Hunting Spotlight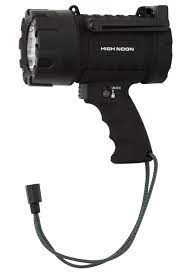 The High Noon 4C is a high-intensity spotlight manufactured by Browning. Browning is America's most celebrated hunting brand. It is a company that makes everything a hunter needs. All the products marketed by Browning are great and worth the cash. I am always fascinated by their products. The High Noon is an all-black tough-looking spotlight. It comes with the pistol-grip design like the others in this list. This Spotlight is a heavy-duty spotlight with four C-cell rechargeable batteries. Depending on the high and low settings, the running time varies up to 72 hours. It comes with a trigger mechanism with an "always-on" mode. It delivers 1000 lumens light with a strong beam setting. It is compact and light-weight as well as water-proof. These features make it an excellent option for hunters.
Pros
Water-proof
Features an "always-on" mode
Longer battery life
High intensity LED beam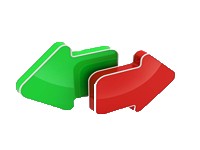 What is The Most Powerful Handheld Spotlight?
The Brinkmann Spotlight is the most powerful in this list, and it is also my no.1 pick to go for long-distance hunting. It is RISK-FREE GUARANTEED with the sturdy ABS plastic casing It is designed for the outdoors with many purposes. Q-beam's high quality make it the perfect tool.
How Many Lumens Is a Good Spotlight?
To answer this question, you need to determine the required lumens. The general rule is that the more lumens you have, the brighter light will be. A spotlight of 100 lumens will work for everyday tasks such as walkways. If you're going for a big game, there are spotlights with as many as 1000 lumens of lighting. A spotlight with 1000 lumen lighting is good enough for many purposes.
How Far Will 1000 Lumens Shine?
A spotlight with 1000 lumens is powerful enough for daily use. However, having high lumens does not necessarily mean a high beam distance. It depends on the quality of the product. The Streamlight 44910 Waypoint 1000-lumens Spotlight produces a light beam at 678-meter distance.