Last Updated on May 13, 2023 by

Looking for a crossbow that's a little different with a whole lot of oomf? Welcome to the right place, where we share all you need to know about the Barnett Vengeance crossbow.
Displaying a major move in crossbow evolution, the Barnett Vengeance appears to be the first crossbow to combine reverse draw technology with a lightweight CarbonLite Riser. This effective combination has given birth to a crossbow with much less vibration and noise than its traditional counterparts, without sacrificing speed, power or accuracy.  The Barnett Vengeance is indeed one of the best crossbows that money can buy.
Barnett Vengeance Crossbow review
Barnett's new reverse draw configuration shifts the center of gravity of this crossbow closer to the hunter's body by moving the limb pockets closer to the trigger assembly, while the limbs face forward on the bow. This design reduces the weight at the front of the crossbow quite a bit, which is essential for a well-balanced shot.  If you are a tree-stand hunter or a ground blind hunter, it will make shooting a breeze for you.  It is particularly helpful for hunters who have suffered from neck-or-shoulder injuries and can't carry much weight.
A CarbonLite Riser assembly further reduces the weight without compromising on power or accuracy. Being the most technically advanced riser ever created for a Barnett crossbow, the CarbonLite Riser almost removes 40% of weight from the riser, and it shifts the balance point towards the shoulder. The reverse draw design together with the CarbonLite Riser allows the Vengeance to provide the steadiest and most accurate shot possible.
The Barnett Vengeance crossbow arrives in a carbon fiber finish or a high-definition camouflage.  The Vengeance is available as a complete package with the crossbow, quick detach quiver, three 22″ arrows and an illuminated 3×32 Multi Reticle Scope. Like all other Barnett Crossbows, the Barnett Vengeance is proudly manufactured in the USA.
You may wonder how different the appearance of the Barnett Vengeance is. Well, you will find out on a closer glance that the Barnett Vengeance just takes advantage of the latest reverse limb technology. That allows the manufacturer to mount the limbs facing the opposite direction of traditional crossbows.
This reverse limb technology enables you to mount the weight of the limbs in the middle of the crossbow, which is turn makes it easier to hold level. It also makes the crossbow more compact and movable than the traditional crossbows. With this new kind of technology, they also ensured that this crossbow turns out to be one of the most powerful crossbows that Barnett has ever manufactured.
Power
As we just mentioned, this beast has plenty of power to play with. With speeds up to 365 feet per second, you aren't sacrificing anything in order to get a new design. Make sure that you have your targets secured before you start shooting with this tough and durable crossbow.
Another advantage of this design is that you get more power from less draw weight. It only takes 140 lbs. of draw weight to generate an awesome amount of power. This makes it very easy for anyone to cock.
Durability
As with any Barnett crossbow you purchase, the Vengeance comes with a 5 year parts warranty. So, you may rest assured that the vengeance is going to last you for many years of hunting and if there is any problem, Barnett is going to fix it for you.
Mobility
Because of the reverse limbs, the Vengeance crossbow is much more compact in size and design. This makes it much more mobile because you can run through the woods quickly, without worrying about dragging your crossbow through the ground. It sits very comfortably on your back so that you may move about as you wish.
The only negative comment we could find about this crossbow is that some buyer has complained that this crossbow is not very convenient so far as weight is concerned. We can't expect it to be at the top of the class in everything. However, there isn't much to complain about since this crossbow weighs a modest 8 lbs.
Safety 
You should be as safe as possible with the automatic safety equipped in the vengeance. It will engage as soon as you cock your bow and act as a secondary trigger so that you don't accidentally shoot your friend or get involved in an accident due to absentmindedness.
Value for money
You might feel a bit scared of the price tag at first sight, but you need to consider what you are getting at this price. You are getting one of the most powerful crossbows Barnett has ever produced equipped with some of the best new technology on the market. This could be the last crossbow you ever need to purchase unless you go for a pricier and fancier model. If you fancy a more grand crossbow by Barnett you would find Barnett Ghost 410 CRT Crossbow this product is right on the money or the Barnett Raptor FX and the Barnett Quad 400 Crossbow if you're on a budget but want to brave the woods for hunting.
Pros
Reverse Limb Technology for smaller footprint
Carbon-Riser Technology to reduce weight
Includes arrows and a rope-cocking device for the benefit of the customer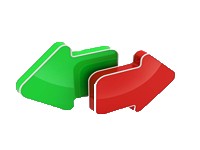 Cons
At 8 pounds, this crossbow is still somewhat on the heavier side
String dampeners detach too easily, so that may create problem
Barnett Vengeance crossbow review: Final Analysis
Mаnу оf crossbow hunters іn North America are always on the look-out for a powerful crossbow which is as fast as it is powerful. Keeping this in mind, Barnett has produced the Vengeance, which  іѕ the fіrѕt crossbow tо combine reverse-draw technology wіth a lightweight CarbonLite Riser. Thе combination produces a bow which is lethal as well as silent.
After going through this Barnett Vengeance Crossbow Review, you will have no doubt in your mind about the power and accuracy of this crossbow. The Barnett Vengeance is indeed one of the top crossbows from the Barnett stable and don't hesitate to buy it if you have chosen this model as your favorite.